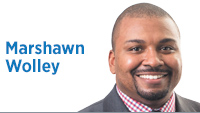 Leaders are a product of their times, but we judge them for transcending the inconsistencies and even failings of an epoch. Leadership is complicated, hard, sometimes unforgiving. When you are president, decisions—and the consequences, intended and unintended—constitute history itself. In President George Bush's successes and failures, we are reminded of the challenges we still face today as a community and larger society.
Having opposed the Civil Rights Act of 1964 in his Senate campaign, the future president (then a member of the U.S. House) voted for the Fair Housing Act of 1968 at great political risk. While his constituents were against the law, he made the moral case in a town hall and left with a standing ovation. Bush reminds us that leadership isn't always doing the people's will; sometimes it's helping us find our better selves. Moral arguments still matter.
As a society, we continue to struggle with race and its impact on people's lives. President Bush was technically correct years ago when he suggested the economy was recovering without the intervention of government. Black unemployment (16 years and older) was at 11.7 percent in 1988 and would climb to 14.2 percent in 1992, with white unemployment at 4.7 percent and eventually rising to 6.6 percent, respectively. Black unemployment never fell to 6.6 percent until April of this year while white unemployment only got as high as 9 percent during the Great Recession. Disparate unemployment rates produce social immobility.
Today civic leaders are talking about inclusive growth, but the discussion needs to be informed by the realities of race in Indianapolis—which also means dealing with power and resource allocation. Ostensible de facto segregation in positions of leadership in industry segments from the tech sector to not-for-profits hurts our city. Inclusive growth clearly can't just be about jobs but must also include re-thinking decision-making processes that maintain the status quo in who gets opportunities.
The war on drugs was bipartisan and it must be noted that communities of color also called for an escalation on the war on drugs. Bush's escalation on the war on drugs and crime is a lesson on understanding what victory should look like and establishing the right metrics. In prosecuting the war on drugs, inmate populations increased by 24 percent from 1989 to 1992, while total violent crime increased from 1988 to 1992. Policies meant to respond to drugs and crime ended up undermining trust between the criminal justice system and communities of color. The prison population expansion didn't signal that government was winning the fight.
Poverty—a complex and multifaceted problem—is increasing in our community and while there is a lot of activity, there doesn't seem to be a clear goal with a plan. It might be tempting to look at employment as a metric for determining success, but like prison inmate statistics, there is a larger context that must be understood. Expansion of grant-funded poverty programs that go away can do more harm than good in the long run. Policymakers have to keep the long view in mind.
Finally, the leader that suggested we needed a "kinder and gentler" nation leveraged the infamous Willie Horton advertisement, earning 12 percent of the black vote. But he also earned a 56 percent approval rating among black people, according to a New York Times/CBS News poll in 1990. Actions spoke louder than words.
Leadership is complicated and we do right to honor those who led us well because their successes and failures are instructive.•
Click here for more Forefront columns.
__________
Wolley is a lecturer at the School of Public and Environmental Affairs at IUPUI. Send comments to ibjedit@ibj.com.
Please enable JavaScript to view this content.