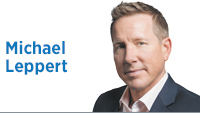 It is becoming a trend. Breaking up with one of the planet's greatest temptations, power, is growing uglier every election cycle in America.
I wrote about it two years ago while aghast at what was happening in North Carolina, one of my family's adopted states. In November 2016, the Republican-controlled Legislature there responded to its party's loss in the governor's race by passing a series of gubernatorial power-limiting laws. An example was one that would limit the ability of the new Democrat in office, Gov. Roy Cooper, to hire the people he wanted in key positions without Senate confirmation.
The response to that loss in the governor's race inspired what has now become the playbook for GOP "sore loser" sessions. It is not an unprecedented idea. It is more like the hit movie "A Star is Born"—a story that can be repackaged every generation or so and manage to seem like a creative epiphany. Both are good stories, but neither are anything new.
In two Midwestern states to our north, simultaneous reruns are in progress. Wisconsin and Michigan Republicans are fighting Tar Heel hangovers after seeing their governor's mansions flip from red to blue.
In Wisconsin, bills were passed to limit early voting, to temporarily give the Legislature appointing control of an economic development board, and to limit other appointment power of the governor.
Michigan lawmakers are trying to limit the power of their newly elected governor, attorney general and secretary of state. All three are women.
The temptation to seize opportunities presented at what is often referred to as a "lame duck" session is understandable. What is baffling is that GOP legislative majorities in at least three states are confident they will suffer no backlash from voters for such obvious and shameful shenanigans. Even Republican voters should be disgusted or, at a minimum, turned off by strategies like these. And if not, they should be ashamed of themselves.
Would Indiana handle a power transition any better under similar circumstances? It is hard to imagine that Hoosier legislative leaders would be so petty. However, the cultural elements in neighboring states that allow for such blatant power grabs are not all that different from ours. It is far-fetched to think a single line on a map makes people in Michigan and Wisconsin meaningfully distinct from us.
Sore losers are as possible here as they are there. And there will be a day where partisan power will transition here. That is why people of Indiana need to pay close attention to what's happening to our north.
As we flip through our own experiences with legislation specifically designed to empower the majority—and to limit the strength of future political minorities—we should view them clearly. They are always impediments to progress.
I hope northern Republicans get hold of themselves and walk away from this nonsense. I expect by the time this is published, they will have ignored that advice from people who matter to them far more than I do. That will leave potential responses from voters and courts to provide the partisans with the corrective response they need.
For Hoosiers who think this doesn't have any impact on us—yes, it does. It is a trend we should be prepared to face. Until appropriate consequences for "sore loser" sessions become real, the biggest loser will continue to be the state of our democracy.•
Click here for more Forefront columns.
__________
Leppert is an author and governmental affairs consultant in Indianapolis. He writes at MichaelLeppert.com. Send comments to ibjedit@ibj.com.
Please enable JavaScript to view this content.