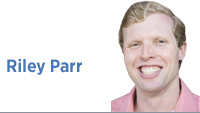 Millennials get a lot of flak—some of it well-deserved. Perhaps a higher proportion of my generation is, in fact, narcissistic, materialistic, technology-addicted, participation-trophy winners who still live at home. Fortunately, not all individuals who fall into the 22-to-37 age range are content to sit in their parents' basements all day bemoaning their station in life. Many get out and do something about it.
I don't subscribe to the fashionable trend of thinking that everyone who gets into politics does so purely for self-interested reasons. I'm not naive enough to think every person involved with the political process is doing so for altruistic reasons; but, generally speaking, people latch on to a campaign or work in politics because they believe in a cause or want to help effect change. There's a little bit of ego, or perhaps self-confidence, involved. After all, to run for an office means you think you are the best for the job—or at least better than the current office-holder.
In last month's election, voters decided to send three millennials to the Indiana General Assembly: Beau Baird, Ethan Manning and J.D. Ford. Baird won the House District seat his father, Jim, had held before announcing he would run for (and win) Indiana's 4th Congressional District seat. Manning replaces longtime Rep. Bill Friend in House District 23. And Ford beat conservative stalwart Sen. Mike Delph in the northern and western Indianapolis suburbs.
I'm fortunate to know both Beau and Ethan and have every reason to believe they will serve their constituents, and the state of Indiana, exceptionally well. I disagree with Ford on policy, but wish him the best and expect he will vigorously advocate for those policies he believes are best for Indiana.
Justin Busch, from the Fort Wayne area, was chosen in a caucus to replace retiring Sen. David Long. He's right on the cusp of being a millennial or Gen X'er, but he's still a younger newcomer to the General Assembly.
Those legislators join Ryan Hatfield from Evansville and Dan Forrestal from Indianapolis, both younger Democrats. Dave Ober, a former state representative and now a commissioner at the Indiana Utility Regulatory Commission, served three terms in the House of Representatives; he was just 24 when initially elected.
Millennials are also having an impact at local levels of government. Chris McBarnes is the mayor of Frankfort. Initially elected in 2011 at 23 years old and while a senior at Butler University, the Republican is in his second term and focused on revitalizing his small Clinton County community.
Three other Republican millennials have also announced mayoral bids for 2019.
In Noblesville, Chris Jensen, the current City Council president, is running on a platform of infrastructure, downtown investment, workforce development and public safety. Down on the Ohio River, in the historic town of Madison, Andrew Forrester, who has served as the city's community relations director since 2012, received the backing of the current mayor, Damon Welch. Forrester played significant roles in developing the city's comprehensive plan and navigating the applications and procedures for America's Best Communities and Stellar Communities programs.
I have the privilege to know both Chris and Andrew. If these men are elected, Noblesville and Madison will be in phenomenal hands.
Finally, Joshua Marsh is running for mayor of Greensburg and focusing on safe streets, infrastructure, community investment and communications. As somebody who is fortunate to call Josh a friend, I know he will work tirelessly to come up with innovative solutions.
In spite of general attitudes about my generation, some millennials are taking matters into their own hands—and doing it quite well.•
Click here for more Forefront columns.
__________
Parr is a student at the Indiana University Robert H. McKinney School of Law in Indianapolis and is treasurer of the Indiana Young Republicans. Send comments to [email protected]
Please enable JavaScript to view this content.