Should the Legislature set standards for teacher pay?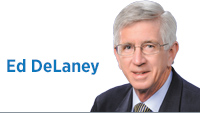 I had a nightmare the other night. Perhaps it was from jet lag. I dreamed that I worked for a large employer and that the CEO announced that we were all underpaid. He went on to say that we would get a raise and soon. Then, just two weeks later, the chairman of the board announced that he wouldn't know how to structure the raises or to fund them. He asked us to wait two years for him to sort it out. So I started a job search.
I am sure that many of our 60,000 public school teachers were excited when House Speaker Brian Bosma spoke on Nov. 20 about a consensus to raise teacher pay during the 2019 session of the General Assembly. The governor, who must not be coordinating with the speaker, proceeded to announce that while he is all for making teacher pay competitive, he doesn't know how to do that or where to find the money. So please wait until 2021.
This is not a morale booster. And if we follow the governor's path, local school boards may have a perverse incentive to delay pay increases while awaiting increased state funding. Meanwhile, teachers will be left scratching their heads and wondering if they are indeed valued. College students will continue to avoid teacher training programs. Private employers will find increased chances to poach educated candidates in a tight labor market.
This raises a key question: Do we have a personnel policy covering teacher compensation? Has the governor failed to locate it?
The legislature sure hasn't set pay standards for teachers or any employees. We did put pressure on the governor to enhance pay for caseworkers at DCS, but only in response to a crisis in staffing the agency that faced a growing workload.
Our teachers are not state employees as such. They are employed by some 270 school districts, but the Legislature funds teacher pay and public school administrative pay. School boards are allocated the state funds and set pay levels.
The General Assembly could set fixed pay levels across the board, but this would be difficult given the range of school systems we have. Alternatively, the General Assembly could provide financial incentives to increase teacher pay, especially at the beginning level.
Schools that set minimum pay for starting teachers could get extra funds. Those funds and the existence of a higher starting pay would ripple up through the ranks of more experienced teachers.
The governor and I both served in the Navy; we know that as night follows day, pay raises for junior officers lead to bigger ones for the more senior officers.
We don't set a minimum pay even for beginning teachers. As a result, we have dozens of districts that pay starting teachers less than $35,000 a year. Typically, starting pay is below $40,000 across the state, even though teachers must have a degree that costs a great deal of time and money and may have been paid for with loans.
So let's buckle down, give this some thought and act now. Our teachers and kids don't have two years to waste.•
__________
DeLaney, an Indianapolis attorney, is a Democrat representing the 86th District in the Indiana House of Representatives. Send comments to ibjedit@ibj.com.
Please enable JavaScript to view this content.