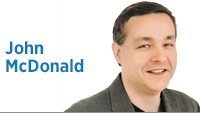 Last month, General Motors, the nation's largest automaker, announced it would close five plants and cut 14,000 workers. The company also announced it would discontinue many of its sedans, including the Chevy Cruze and Impala, due to declining sales and strong consumer demand for larger SUVs and trucks. But if you look a little deeper, the true reason for GM's adjustment was stated by GM CEO Mary Barra: the car industry's rapid move toward electric propulsion, ride sharing and autonomous vehicles. GM is still hiring people but is specifically looking for those with expertise in software and electric and autonomous vehicles.
It's a shift we should expect. Do a quick search using the term "autonomous Ford" and you'll be quickly directed to a website that talks all about Ford's program to have a fully autonomous vehicle by 2021. All of the global manufacturers have made a similar promise, because if any of them hadn't, they would be out of business shortly after 2021, as their products would no longer be competitive. GM is effectively redirecting resources to these critical, next-generation projects in order to win—or perhaps to just catch up. Car manufacturers that do not master technology will quickly be left in the dust, because they simply won't be able to compete with the companies that are outproducing and out-innovating them. We are in the midst of a new industrial revolution powered by advancements like machine learning, predictive analytics and the internet of things.
Some argue that a rise in automation will replace jobs, but with a low unemployment rate and access to talent a challenge for so many, I'm optimistic the jobs aren't gone for good, just shifting. Studies have already shown that machine learning and artificial intelligence aren't displacing jobs. What's really happening is that jobs are changing from roles on the assembly lines to engineering and computer programming. Our own governor gets this, which is why his 2019 Next Level agenda includes so many great ideas about how to expand trade education options in technology for high school students and second-career Hoosiers.
Barra gets this too, and she is seeking the funds GM needs in order to innovate. By getting in front of her industry's inevitable move towards high tech, she is solidifying the longevity of GM as one of America's leading auto manufacturers. Instead of thinking about these layoffs as the demise of the country, just like many did a quarter century ago, we should shift our mindsets to re-educating the workforce for a new required set of skills. Figures from McKinsey Global Institute, a business and economics analysis firm, shows that almost 65 percent of auto-industry jobs have the potential to be automated within the next 10 to 15 years. The decline of machine operators is also being followed by speedy growth for computer network support specialists and software developers in the auto-sector.
While some have called for the reversal of GM's decision, a reduction in federal funding or to close one of its plants in China, these paths would only hinder GM's and our country's ability to compete in an industry we've led from the start. It's crucial we embrace these types of transformative technologies. As citizens, we should join our leaders and policy makers in seeking to get ahead of this dramatic labor market shift by focusing on workforce training (and re-training) and increasing investments for education in computer programming, software development, engineering and other digital careers.
Just like the industrial revolution, the transition to new manufacturing processes is going to require a shift in our mindset as well.•
Click here for more Forefront columns.
__________
McDonald is the CEO of Fishers-based ClearObject and chairman of the Indiana Technology and Innovation Policy Committee. Send comments to ibjedit@ibj.com.
Please enable JavaScript to view this content.