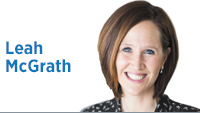 There seems to me to be a lot of attention—maybe too much attention—on what divides us as a community, a state and a nation. I want to share a story of how people in my community are coming together to make people's lives better.
In 2015, I had my first interactions with the Fishers Disability Roundtable. The group originally formed to advise the city's ADA transition plan. With that completed, Fishers Mayor Scott Fadness met with Councilwoman Cecilia Coble and saw the potential to continue to make a difference in the lives of members of our community who have special needs. Councilwoman Coble passionately took on the challenge of growing the effort.
I hitched on for the ride, and three years later, I am again humbled by what can happen when dedicated individuals rally around a need. "Life Without Limits" has become the theme of the reorganized Fishers Advisory Committee on Disability. We now say "all abilities" as often as we say "dis"-abilities. We learned the "People First" language from the Joseph A. Maley Foundation and have embraced the idea that we are each perfectly made.
The committee now includes representatives from the city, schools, caregivers, providers, advocates and individuals who have a passion for serving and celebrating all abilities in Fishers. Their work is highlighted during March Disability Awareness Month, when they host more than nine events. Mark your calendar now for the Athletic Showcase at Fishers High School on March 23.
The impact of the committee's efforts is felt year round. For example, Fishers Fire & EMS Department has created a special needs registry. Fishers Parks and Recreation has begun incorporating Sensory Friendly hours and spaces into their events and programs. At the city's largest festival, Spark!Fishers, inclusivity is a chief goal, from including a sensory friendly kid zone to sensory friendly parade viewing area and a reserved place to view fireworks for families who may have a member with special needs.
A sub-group focusing on infrastructure was also called upon by the city to give insight into the design of the newly renovated Amp and lawn space. Their feedback informed an accessible restroom layout, sidewalk width and the wheelchair viewing area. Their outreach also was instrumental in bringing together groups in Hamilton County to better serve those in need of home modifications due to a life transition or disability. As a result, Housing and Neighborhood Development, Habitat for Humanity and Shepperd's Center formed the Hamilton County Home Repair Program, a group that brings all resources to bear for those who need home modification assistance.
Employment is an important conversation for our committee, and one that is led by a tireless trio from Hamilton Southeastern Schools, Outside the Box and Opportunities for Positive Growth. They hold monthly meetings with employers and HR professionals to continue breaking down employment barriers and to help meet employer's needs.
I leave each meeting I attend with an inspiring story—the brilliant young college graduate with cerebral palsy who now is employed with a local tech company; the student athlete who despite losing his sight has set his sights on track and field medals and even the Olympics; an elderly woman who can stay in her home thanks to modifications made; a grateful father who brought his son to his first parks event because the sensory-friendly hours made it manageable for his family. The list goes on.
I am so encouraged by the work of this group and the heights I know they will continue to climb. Never doubt the difference you can make.•
Click here for more Forefront columns.
__________
McGrath is deputy mayor of the city of Fishers and is vice chairwoman of the Indiana Republican Party. Send comments to ibjedit@ibj.com.
Please enable JavaScript to view this content.