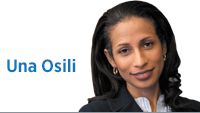 Over the last decade, much has been written about the demand for skilled jobs of the future and the state's widening racial and economic disparities. How are these two factors connected and what can we in Indiana do to boost economic growth and address deep-rooted social inequities? One key variable in addressing these issues is to expand higher education opportunities through state investment and public-private partnerships. This is a win-win. Widening educational opportunities can dramatically increase the number of residents with postsecondary training and build a future talent base.
I recently re-examined the Center on Education and Work Force at Georgetown University report "Recovery: Job Growth and Education Requirements through 2020" that provides an in-depth projections for Indiana's labor market. The report estimates that a majority of future job openings in Indiana will be higher-level positions that require at least some post-secondary education or training. Currently, Indiana ranks 41st nationally in the proportion of adults with a college degree.
On a more positive note, the data from Indiana's College Equity Report shows that Indiana's colleges are making progress in closing racial gaps and have expanded the population of low-income students enrolling. While this is good news, the report also underscores that students from disadvantaged backgrounds face persistent financial and academic obstacles in achieving college completion. Unfortunately, overall trends show declining or at best stagnating public funding for higher education in Indiana.
In an era of declining public funding, private philanthropy has and will continue to play a vital role for both public and private institutions. In a National Bureau of Economic Research working paper, Fiona Murray estimates that approximately one-third of the research budgets of America's leading universities comes from philanthropic gifts.
In addition to supporting the expansion of facilities and supplying risk capital for research and curriculum development, private donations contribute to financial aid for low-income students and others who face barriers to accessing and completing college.
Thus, important solutions to the twin issues of 21st century workforce development and racial and economic disparities can be found in expanding private and public support for higher education. This partnership can provide the financial aid and wrap-around services that can help bridge the opportunity gaps, expand economic pathways and strengthen Indiana's civic and economic fabric.
I have closely followed the debates on funding higher education and have witnessed firsthand the power of higher education to change lives. My father was a first-generation college student. He graduated from college and then went on to obtain a doctorate in the sciences. Beyond his academic and career accomplishments, he had also dedicated his resources to expanding educational opportunities for others.
Indiana has the opportunity to pioneer new pathways to support higher education. Already, local and global companies are partnering with Indiana colleges and universities to develop certificate programs, expand internships, fund research and provide career-readiness skills. This is an important step forward in making higher education a priority and expanding opportunity in the Hoosier state.•
Click here for more Forefront columns.
__________
Osili is professor of economics and associate dean for research and international programs at Indiana University Lilly Family School of Philanthropy. Send comments to ibjedit@ibj.com.
Please enable JavaScript to view this content.