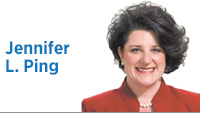 As 2018 comes to a close and we begin listing our New Year's resolutions, Indiana businesses should add utilizing the employee training opportunities available through Indiana's Next Level Jobs program and Ivy Tech Community College to their lists.
In the Indiana Chamber of Commerce's Vision 2025 report, 79 percent of Indiana employers surveyed said hiring workforce and talent was their biggest challenge, with 47 percent reporting they have left positions unfilled due to underqualified applicants. With the training and education opportunities available in Indiana, we should see these percentages decrease. About 48 percent of Indiana employers offer tuition assistance, but fewer than 5 percent of employees take advantage of this benefit. With more than 1 million jobs to be filled over the next 10 years, Indiana business can, and should be, an integral part of solving the workforce and talent challenges.
Through Next Level Jobs, Hoosiers have access to the workforce ready grant that will cover all tuition expenses for qualifying high-demand certificate programs for up to two years, as well as coursework toward industry-recognized certifications. Employers can provide additional support, such as books and supplies, for their employees.
Next Level Jobs also provides free training for employees and will reimburse employers through the employer training grant if they train, hire and retain employees for high-demand positions. This can be a game changer for employers facing hiring challenges to help skill-up their workforce. The grant provides reimbursement of up to $5,000 per employee who is trained, hired and retained for six months—up to $50,000 per employer.
Providing classes in more than 75 communities, Ivy Tech's innovative approach to educating Hoosiers makes it easy for businesses to utilize the Next Level Jobs programs. Ivy Tech is key to Indiana's workforce needs and develops programs to support their students and employers. One of these options is the increased offerings of eight-week courses. Ivy Tech started eight-week courses more than 10 years ago and recently increased those offerings after seeing improved course-completion rates and overall program completions. This is just one of numerous ways the community college supports the vitality of Indiana's workforce.
In 2015, Ivy Tech collaborated with community businesses and created the Achieve Your Degree program to offer employees the opportunity to earn—at minimal costs—education and training aligned with their employer's professional-development goals. Endorsed by the Indiana Chamber of Commerce, AYD offers employer-driven degree and stackable certificate programs with individualized academic plans and extensive student support. AYD removes the initial financial barriers with no upfront cost to the employee. The program leverages available employer-tuition reimbursement combined with financial aid support, and many programs qualify for the Indiana Next Level Jobs employer training grant reimbursement. AYD has more than 150 employer partners throughout the state, with more than 1,200 students currently enrolled in programs for the high-demand fields of advanced manufacturing, health care, business and logistics. To date, the program has served more than 2,400 students.
Indiana businesses need to utilize both the Indiana Next Level Jobs program and Ivy Tech's shorter class schedule with their Achieve Your Degree program to help their current employees skill up and help future employees be hired.•
Click here for more Forefront columns.
__________
Ping is a principal at Bose Public Affairs Group and former chairwoman of the Marion County Republican Party. Send comments to ibjedit@ibj.com.
Please enable JavaScript to view this content.