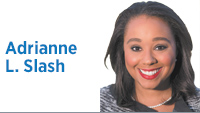 With the various campaign announcements over the past and coming weeks, the 2019 municipal elections are shaping up to have record numbers of candidates. I predict primary challenges and a flood of new candidates to the scene. One thing to excite the younger generations is the arrival of many more candidates under the age of 45. This is relevant in more ways than many are willing to consider.
The greater Indianapolis area has seen growth in every way imaginable in the past decade. The city I returned home to from college was vastly different from the one we live in today. The demographic makeup of our community is different also. Last month, I made the call for the candidates of today, and this is the continuation of that plea.
The city of Indianapolis is becoming more diverse by the day. In order to make Indianapolis a world-class city for all, inclusive representation in elected offices is paramount. It is important that on the most local levels of government all residents see someone that looks like them in an elected office, someone representing their view of our beloved city and casting votes on their behalf. I know this is the millennial view: In order to keep our new residents attached to their newly created job opportunities, this is imperative.
As we continue to renew Indy—and our neighborhoods transition—having grassroots connections to the hearts of those neighborhoods to represent their voices is necessary. Young professionals both politically and non-politically affiliated are now homeowners in every council district and invested in their future property values, just as their parents once were. Don't count them out when you see their announcements as candidates for office.
Millennials and members of Gen Z—the generation that comes after millennials—at times may only pay attention to sound-bite politics and cause short-lived uproars on social media. But the members of these two great generations are also joining politics and community groups to learn how to advocate for their interests. Our great city is only as great as its vision for our younger generations. Our vision is long, and our plans are big.
What to do when our new candidates announce or show interest in running?
• Welcome their announcement and have an open mind.
• Hear them and understand why they're interested.
• Ask them to share their "why."
• Do not tell them that they're too young or not ready.
• Acknowledge the value of diversity in decision-making bodies.
• Encourage them to give 100 percent—or wait until they can.
• Bonus: If you believe in them, support them financially!
The city of Indianapolis will be better for the infusion of talent it is poised to see in the upcoming political season. There are leadership development organizations that have worked hard to prepare a pipeline of not only young people but also people of color. They have worked to prepare them to not only run, but to win and do well leading our great city.
A few months ago, I asked, "Where are they (young people and particularly people of color) supposed to go lead?" By the looks of election results around the country from this year, "everywhere else" is the answer. I don't know about you, but I'm tired of seeing great talent leave the city because they can't "be great" here. The cost is too high for Indianapolis to be closed-minded and not embrace new talent to lead us into our future.•
Click here for more Forefront columns.
__________
Slash is a diversity and inclusion consultant in the health care industry and is president of The Exchange at the Indianapolis Urban League. Send comments to ibjedit@ibj.com.
Please enable JavaScript to view this content.