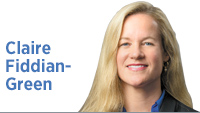 The evidence is clear: The most important factor in student academic achievement is quality teaching in the classroom. Therefore, attracting and retaining excellent teachers in every school in Indiana is critical to the long-term success of Hoosier children and the economic vitality of our state. It's no surprise, then, that increasing teacher salaries has emerged as a key priority as we head into 2019. Unfortunately, our ability to do so is limited by multiple competing demands on finite state resources. The time has arrived for us to identify creative approaches to increasing teacher compensation.
Education accounts for 63 percent of Indiana's annual budget. Because teacher compensation-setting is a local decision made at the school corporation level, a common proposal is to allocate a larger proportion of the state budget to schools, which in turn, can increase teacher salaries. However, unless we collect more tax revenue, funneling additional dollars to schools for teacher com6pensation will result in less funding for other critical state priorities—like addiction treatment services, school safety resources, and infrastructure.
So how do we stretch state funding to support what seems like an ever-expanding list of priorities? We can start by becoming more efficient with existing public dollars.
In 2007, under the leadership of former Gov. Joseph Kernan and Indiana Supreme Court Chief Justice Randall Shepard, the Indiana Commission on Local Government Reform issued a report outlining 27 recommendations to streamline local government and direct more dollars to state services and programs. One recommendation called for the transfer of township government duties to county government. A different report, released by the Indiana Chamber of Commerce in 2017 and commissioned from Ball State University's Center for Business and Economic Research, recommended merging small school districts to help boost student academic performance, in part by funding more science, technology, engineering and math classes like AP biology and computer science. Both reports identified redundancies in publicly funded governance structures that were established over a century ago, long before the development of modern transportation and communications systems that improve access to education and other services.
Indiana could implement the recommendations set forth in both the Kernan-Shepard and Indiana Chamber reports and allocate a portion of savings resulting from consolidation to higher teacher compensation. Recognizing that some of this consolidation will lead to job losses within school districts, another portion of savings could go toward providing training and support to equip displaced employees with the skills they need to find employment in high-wage, high-demand occupations. This would have the added benefit of helping to address Indiana's well-documented skills gap and enabling Hoosier employers to fill open positions.
Finally, school corporations can play a key role in identifying solutions to increasing teacher pay. Districts could follow the example of Indianapolis Public Schools under the leadership of Superintendent Lewis Ferebee and partner with their local chambers of commerce to analyze school operations and identify areas for improved efficiencies. Two areas of opportunity that apply across most school districts are transportation services and facilities.
There are only so many dollars to go around in our state budget, and we have many vitally important priorities, like ensuring we are adequately funding child welfare services and building appropriate capacity to combat the opioid crisis. We owe it to Hoosier children, teachers and taxpayers to scrutinize how Indiana is allocating existing public dollars and identify sustainable solutions that address the critical issue of teacher compensation.•
Click here for more Forefront columns.
__________
Fiddian-Green is president and CEO of the Richard M. Fairbanks Foundation and a former adviser to then-Gov. Mike Pence on education issues. Send comments to ibjedit@ibj.com.
Please enable JavaScript to view this content.