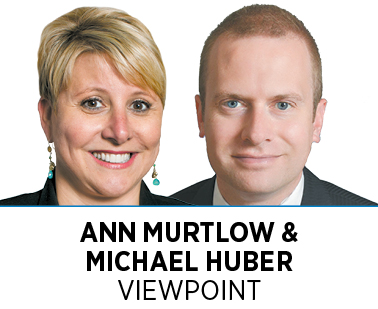 Indiana is one of just five states with no law adding penalties for bias crimes. It's a blind spot in our justice system and a flaw in our business climate that becomes more conspicuous with each passing year.
Nationally, reports of crimes motivated by a victim's unchangeable characteristics—such as race, religion, sexual orientation and gender identity—increased 17 percent from 2016 to 2017. Stories of violence and vandalism from across the state show that Hoosiers aren't immune to this trend.
But momentum has been building for change: Recent state polls show broad and bipartisan support for a bias-crimes law, and a growing alliance of business, civic and community groups is mobilizing to urge the General Assembly to punish bias crimes and protect our economy from the negative image of inaction.
Gov. Eric Holcomb has put passing a bias crimes law at the top of his agenda; he deserves our praise for leading on this worthy cause. Several promising bills have already been introduced in the General Assembly.
It's time to capitalize on this momentum. The United Way of Central Indiana has partnered with members of the business, nonprofit, education, faith, government and philanthropy communities to form Indiana Forward, a broad-based campaign united in the belief that an inclusive bias-crimes law is good for people, employers and our state. The Indy Chamber has also reactivated the statewide Indiana Competes coalition, extending its anti-discrimination mission to make the business case for action against bias crimes.
Together, we represent thousands of companies, civic organizations, religious and social service groups, and individuals from all walks of life in support of a strong law with a clear list of personal characteristics that reflects the diversity of modern-day Hoosiers.
Simply put, we want Indiana to reject hate without loopholes or ambiguity.
Last week, IBJ argued for including gender identity but added that its omission shouldn't "scuttle" the bill.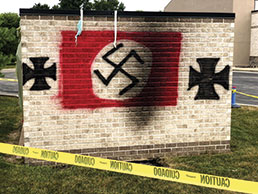 Gov. Eric Holcomb spoke publicly in favor of a hate-crimes law after vandals spray-painted anti-Semitic graffiti at a suburban Indianapolis synagogue. (AP photo)
In the typical legislative process, such compromise is the coin of the realm. But this isn't a typical issue. If we go to the Statehouse ready to exclude some of our fellow citizens— trading equality for expediency—any victory would be a hollow one that surrenders any claim to real leadership.
Many state bias-crimes laws that don't include gender identity passed in the 1990s or early 2000s. If Indiana passes a bias-crimes bill in 2019 that pointedly excludes gender identity, it would only amplify the negative perceptions that hinder our economic development efforts.
No one wants another Religious Freedom Restoration Act; our partners still struggle with the fallout as they try to appeal to skilled workers, attract conventions and convince employers that Indiana is an inclusive and inviting state.
But the lesson of RFRA isn't to avoid controversy, it's that discrimination is bad for business and wrong for Indiana. Leaving gender identity out of bias-crimes legislation would leave us on the defensive, limiting our ability to welcome a diverse workforce and the business opportunities that follow.
It's not enough to lead with an affordable business climate when human capital is also a top priority. Passing a watered-down bias-crimes law would force CEOs to rethink Indiana as a competitive place to recruit and retain talent.
We shouldn't squander this opportunity to lead with hesitation or half-measures; the General Assembly should pass a strong bias-crimes law that doesn't leave any Hoosiers behind.•
__________
Murtlow is president and CEO of United Way of Central Indiana. Huber is president and CEO of the Indy Chamber.
Please enable JavaScript to view this content.