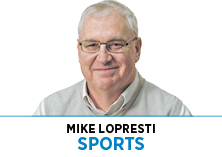 Santa's already been here. You can tell by all the presents for sports fans of this state. Time to do some unwrapping, because there are a lot of surprises in there.
Let's start with the blue and white package.
Hmmm, it doesn't seem to be another used Andrew Luck jersey, stained with grass from all his sacks. We got that a couple of Christmases ago. Why, it's a … playoff scenario! Surprise!
Yes, it's beginning to feel a lot like January, for a season that two months ago reminded you of a train wreck. Just for the record, know how many NFL franchises have gone to the playoffs since the last time the Colts were there? Try 23.
But their U-turn—from 1-5 to 8-6—has become one of the stories of this season, and the sudden playoff possibilities must have West 56th Street in a tizzy, right? Right? "We don't live in holes," Luck said the other day. "But I haven't heard talk about it at all, and that's not a lie." Well, if he says so. He's the quarterback.
Among the most stunning numbers of revival: Luck was sacked 16 times in the first 14 games. A year ago, the Colts allowed 56 sacks.
Also, no longer does Luck have to pass for a quarter of a mile to win, since the defense has turned into an iron curtain, and the running game productive. Four opponents haven't scored a touchdown, including the Dallas shutout. The last time the Cowboys were blanked, they didn't have to be worried about being savaged on Twitter, because there wasn't any. That was 2003. By the way, this is the same Indianapolis defense that, in mid-October, had given up 117 points in three games.
OK, now let's open the cream and crimson box.
Surely, it's a Romeo Langford watch. That's been a popular item, keeping the current time and date in Bloomington, and also the hours and minutes until Langford announces for the NBA. But, no, it's not a watch, it's a … Rob Phinisee stake! What a thoughtful gift, since he keeps sticking them through the hearts of Hoosiers opponents.
Every basketball-speaking citizen of Indiana knows about Langford. Phinisee was a hot high school commodity, too, and had a grand career at McCutcheon. But with Langford in the same class, he was easy to lose in the glare. He might as well have been on Mars when the Mr. Basketball votes were taken.
But he's impossible to overlook now, with his late-game theatrics, including the shot to beat Butler in Bankers Life Fieldhouse—taken from the next ZIP code. It was the latest Phinisee Phantastic Phinish. The Hoosiers have zoomed to No. 1 in the Hitchcock Memorial Cliffhanger ratings, with four consecutive wins by eight combined points. That's happened because they have two sensational freshmen, not one.
How they're doing this while tied for 302nd in the nation in free-throw shooting is a tad baffling. They're tied for fourth in field-goal percentage. Nobody is guarding them at the free-throw line.
Now, the one with blue and gold wrapping.
How lovely. It's a LeBron James poster . . . in a Lakers uniform! Talk about your tidings of great joy, he's not around in the Eastern Conference anymore, which means the road is open to any team that happens to put everything together, in this opportune season. Speaking of the Pacers, they just had a seven-game winning streak, before suffering an acute case of Cleveland. But yes, they did start the workweek 14-3 against the Eastern Conference. Yes, they did have the NBA's top scoring defense. Yes, they have moved into the upper tier of the East, and wouldn't that be something when home court advantage becomes a factor in April and May?
And, yes, they had won seven of 11 games without Victor Oladipo. Last season, you might recall, it was no Victor, no victory. They were 0-7 without him. Now they have found ways to carry on, faster than you can say Bojan Bogdanovic.
Just more reasons to believe the Pacers are nobody's surprise anymore. They're a genuine contender in the East. So long as they don't lose too often at home to the Cavaliers.
Here's a package with tiny gold helmets. Wonder what's in this one?
Gee, it's a book of … favorite Knute Rockne quotes! Notre Dame has had a remarkable and unexpected season, going unbeaten two years after finishing 4-8, and barging into the college football playoff with no advance reservation. That's how Brian Kelly won the national coach of the year award, or at least was given it on loan from Nick Saban.
But the Irish might need some Rockne-isms to upset Clemson in the Cotton Bowl, which will come almost 30 years to the day after a frozen Joe Montana chugged some chicken soup to combat hypothermia and lead a famous Irish Cotton Bowl rally over Houston. And they'll really need Rockne if they have to play Alabama. Maybe Montana, too.
Now, let's unwrap the black and gold box.
It's a … Purdue kit! Several things. A parka for the Music City Bowl, since it's nice to be playing in the postseason, but Nashville in late December ain't Florida. Also, a framed headline reporting that Scott Satterfield is the new football coach at Louisville. Meaning, Jeff Brohm isn't.
What else? Oh, it's a two-sport gift. There's a big poster of Carsen Edwards shooting a jump shot, with the opposing team playing a box-and-one defense. The box guarding Edwards, and the one guarding everyone else.
There's one last package left, in a plain brown wrapper with the words, "For all recreational bikers and walkers in downtown Indianapolis." Whatever could that be?
It's … a button with a message bikers and walkers will happily wear. Best gift ever! What's it say, you wonder?
"Scooters are the devil's playthings."
All these great gifts. Don't worry, we'll clean up all the wrapping paper. Happy Holidays.•
__________
Lopresti is a lifelong resident of Richmond and a graduate of Ball State University. He was a columnist for USA Today and Gannett newspapers for 31 years; he covered 34 Final Fours, 30 Super Bowls, 32 World Series and 16 Olympics. His column appears weekly. He can be reached at mjl5853@aol.com.