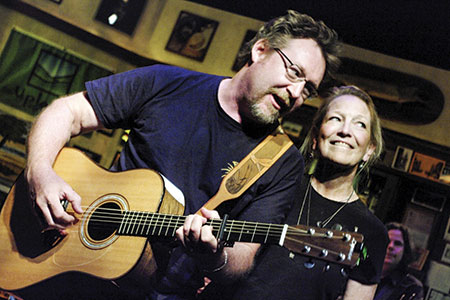 Good luck finding a Hoosier actor who doesn't dream of making the leap to Hollywood.
But two of Indy's leading actors did just the opposite—giving up lucrative careers in movies, TV and commercials to make a new life for themselves in central Indiana. In the process, the couple found not only welcoming theatrical stages, but also musical ones.
Both are heading into a particularly busy season. Tim Grimm just played a holiday show as part of the Indy Folk series at Unitarian Universalist Church and will be celebrating New Year's Eve on stage at Folkstage in Chicago, then playing gigs in Illinois, Iowa, Missouri, Nebraska, Kansas and Colorado before circling back to Indianapolis to star in the Indiana Repertory Theatre revival of "Amber Waves." And then there's another European tour (he spends two to three months a year there).
Meanwhile, when she's not singing harmonies with her husband, Jan Lucas will spend much of the winter at the Phoenix Theatre in the local premiere of the one-woman play "Apples in Winter."
Grimm, 58, grew up in Brown County and Columbus (where he and Mike Pence were both on the high school debate team) and attended Earlham College. He toyed with the idea of following in the path of grandparents and uncles by attending law school, but a fellowship to the University of Michigan led him down the fine-arts road.
Lucas, 65, a University of Michigan grad from outside of Detroit, waited tables in Chicago, where she met her first husband and started taking acting classes. But she didn't begin seriously auditioning until she was a separated, single mom. She was sent to Los Angeles for a screen test and, while that show was never made, it got her name out to casting agents, with bookings soon following.
There, she met Grimm and each landed a TV series lead: she in the medical drama "The Human Factor" with John Mahoney and Eriq La Salle and he in the legal thriller "Reasonable Doubts" with Marlee Matlin and Mark Harmon. TV guest spots and movie roles also appeared on their resumes. She played opposite Billy Crystal in "Mr. Saturday Night." He worked with Harrison Ford on "Clear and Present Danger." Lucas also shot "a ton of commercials," including a Tylenol spot that ran during the Super Bowl.
Rather than buy into a Hollywood lifestyle, Grimm said, the true secret of the couple's success was that, "we did a pretty good job of being grounded in the Midwest." In other words, they didn't sink a lot of their earnings into things.
"We were pretty sensible," he said.
Farm living
Then they hatched the plan that left their LA friends and co-workers a bit baffled: Move back to Indiana to raise their kids.
"I had five commercials in a short period of time," recalled Lucas. "And I was trying to figure out if this was a sign that we should go or that we shouldn't go. Do we just take the paychecks and run?"
Part of their decision had to do with values. At one point, Lucas was shooting a car commercial with the yet-to-be-famous Greg Kinnear on the beach in Malibu. "I was supposed to be some hot babe and Tim brought my son so I could run off the set and nurse him. I thought, with some women there, they would be sympathetic, but they were hard asses about it. There was not a lot of support. And then when I told my agent I was pregnant again, he referred to me as a 'breeder.' That was a little toxic for me."
Their conclusion: "Let's live where we want to live."
Where they wanted to live was on a farm back in Grimm's home territory.
They bought 80 acres, never thinking it would make money. But the cost of living was much more manageable in Columbus than in Los Angeles and the pair could tag-team trips to the coast or Chicago for work.
"It was really a romantic dream that Tim had, to re-create some of his childhood experiences on his grandma's farm," Lucas said. "I bought in 100 percent. I loved the idea of raising my kids in the country."
"'Farm' is an interesting word," philosophized Grimm. "We mean it literally but also metaphorically. South-central Indiana isn't like the north, where everything is flat. We've got 35 acres of woods [and two streams] bisecting the land. There are natural meadows. It's more of a conservancy kind of property—a place we want to take care of and leave some of it alone."
They grew hay, and for many summers, they bailed it, helped by Grimm's father and neighbors. "It's an amazing thing to all work together like that," Lucas said. Bonus: The kids liked riding on the hay wagon.
'I still marvel'
And there was theater.
Grimm and Lucas were invited to be part of the New Harmony Project—a play-development workshop in southwestern Indiana—and IRT began casting them both in stage productions, including "To Kill a Mockingbird" and "The Magnificent Ambersons." High-profile Chicago theaters, including Steppenwolf and Victory Gardens, also made use of their talents.
"I still marvel at how they did all of it early on—raising two small boys, starting an 80-acre hay farm, building a house, and acting in theater," said Janet Allen, IRT executive artistic director. "They became a very vital part of one of our first Indiana Series productions, James Still's 'Amber Waves,' in which they both acted and Tim and Jason Wilbur wrote music."
That music was inspired by their new life on the farm, where Tim wrote the songs that would later be brought together on his first CD, "Heart Land."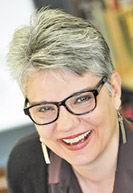 Allen
"It was not a well-thought-out business decision," Grimm said of the roots of his music career. He didn't even think about how many CDs he might sell.
But word of mouth—and public performances—led to connections within the folk and Americana world. In 2000, the Chicago Sun-Times named Grimm its "Best Discovery" in roots/American music, and his songs were picked up by programs on stations around the country. So he found himself as in demand as a musician as he had been on film and stage. He played in libraries, churches, theaters and small festivals, developing a particular affinity for house concerts, in which musicians play for small groups of fans in people's houses.
"The economics for house concerts can be better than a lot of others if you pick them up on the way to larger venues," he said. "They tend to be hosted by people who love the music and they usually bring in like-minded listeners. Getting $15-$20 per person from 35 people is not a bad evening at all."
Plus, house concerts lead to CD sales (accounting for 20 percent to 50 percent of the take) and provide a place to stay with good food.
"The math works out pretty well," he said.
Boosts—and a setback
More CDs followed, with Lucas often performing harmonies and backup. The couple also launched a concert series in Columbus that ran for a decade.
"As an up-and-coming performer watching all these fantastic acts, you can't help but learn and pick some things up," he said.
Added Lucas: "It informed how we want to be as performers. Seeing people come prepared and flexible made me appreciate what we need to do to keep up our game."
Experience on the presenting side proved invaluable—and not just in learning from the talent. "It caused me to develop a certain level of patience, understanding and empathy for the people that host concerts," he said.
Their seemingly idyllic life was interrupted, though, when Lucas was diagnosed with leukemia in 2005.
She credits "a tremendous amount of support and an amazing village in Indy and Columbus" as being crucial in her fight. "The IRT was very gracious in hiring me after my first round of chemo," she said. After performances in "Inherit the Wind" and "A Christmas Carol," though, she relapsed, taking her out of work for an extended period. Her treatment included a bone marrow transplant.
Lucas channeled her treatment and recovery experiences into a 2010 book, "My Beautiful Leukemia," which Michigan Today called "a down-to-earth description of diagnosis and treatment, this is a realistic portrayal with equal measures of humor and hope, despair and fear."
She also returned to the stage with a wide range of performances, including, most recently, roles in the Phoenix Theatre's "The Pill" and Jewish Theatre of Bloomington's "Leipzig," as a woman with Alzheimer's disease.
Meanwhile, Grimm's music continued to earn attention and praise. His song "Woody's Landlord"—a rare foray into politics concerning Woody Guthrie and Donald Trump's father—became the number one song on folk radio in 2016, following similar success for his "King of the Folksingers" in 2014.
A writer for the UK magazine FolkWords described his music as "Americana to the roots, sometimes there's a bluesy feel, sometimes folk takes over, and then there's that rocky edge. Definitions don't fit here, just recognition that you're listening to music from the heart."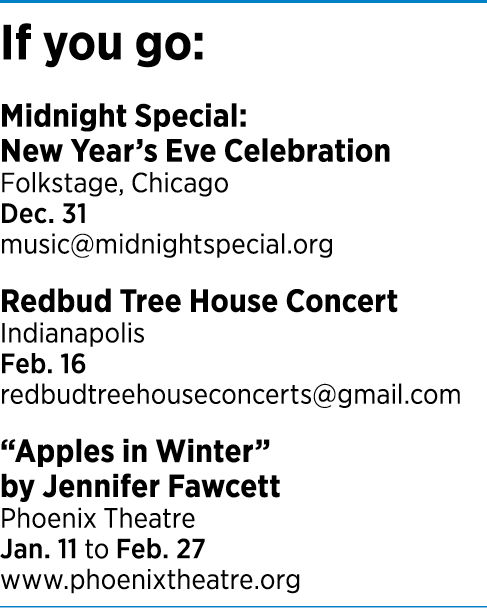 Finding the balance
Scheduling for the duo has become both more complicated and easier in recent years. With their two sons grown—and often playing with them as a family band—Grimm and Lucas are freer to make stage commitments. But with concerts booked a year or more in advance, blocking out the time needed for theater productions has been more challenging, especially considering Grimm's concert popularity in Ireland, Scotland and the Netherlands.
"There are situations like when we did the Bicentennial piece at the IRT ["Finding Home: Indiana at 200"] when discussions happened early enough that we could block out the time," Grimm said. "The same thing happened with the upcoming production of 'Amber Waves.'"
"All artists," Lucas said, "have this dark voice saying, 'This is the last job I'll have. I'm never going to work again or I'll never write another song.' But we've been at this long enough that we know that that voice is part of the deal. You try to brush it aside and keep moving forward."
"It's definitely a lifestyle that is not right for everyone," she added. "There's so much uncertainty built into it. But we're very comfortable with it. And financially, we're able to make it work."•
Please enable JavaScript to view this content.