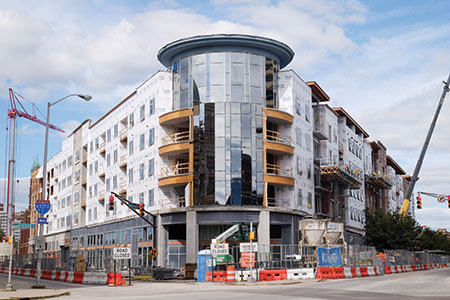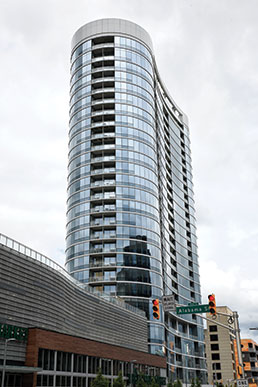 360 Market Square (IBJ file photo)
The 360 Market Square apartment tower opened in March—a $120 million, 27-story structure that redefined downtown's eastern skyline.
A blitz of other major downtown projects is following in its footsteps, as developers take advantage of the strong economy and the increasing desire among millennials and empty-nesters to live in urban, walkable settings.
Much of the activity is along Massachusetts Avenue. In the 500 block, the $50 million Penrose on Mass mixed-use project is expected to open early next year. That project includes 236 apartments and 37,000 square feet of retail space.
Farther east, at College and Massachusetts avenues, construction continues on an even-larger project, the $300 million Bottleworks District development. Developed by Wisconsin-based Hendricks Commercial Properties at the site of a former Coca-Cola bottling plant, it will span 1.2 million square feet and include apartments and condos, as well as office and retail space.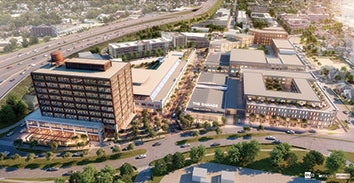 groundbreaking on the Bottleworks District (rendering courtesy of Hendricks Commercial Properties)
Hendricks already has lured a 150-room West Elm hotel and a Living Room Theater art-house movie venue and has snagged venture studio High Alpha as its first office tenant.
Elsewhere downtown, apartment construction continues at a dizzying pace. Just north of South Street, Indianapolis-based Buckingham Cos.' $135 million second phase of CityWay will add 400 additional apartments, nearly 29,000 square feet of retail space, and 19,000 square feet of office space.
Meanwhile, at the former home of The Indianapolis Star along Pennsylvania Street, workers are constructing 334 apartments, in addition to office and retail space. The $70 million project—dubbed The Whit—is being developed by Indianapolis-based TWG Development, which earlier built 145 apartments and first-floor retail on the eastern portion of the property.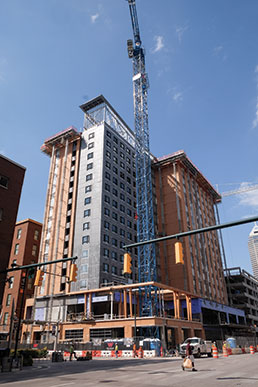 dual-branded Hyatt hotels (IBJ file photo)
Hotel developers in 2018 rolled out projects across downtown. For example, Indianapolis-based Loftus Robinson LLC is converting the 16-story One North Penn office building into a 130-room Kimpton-brand hotel. And Everwood Hotel Partners—whose offices are spread between New York City and Columbus, Indiana—plans to invest $20 million to convert the 12-story Stock Yards Bank & Trust building at 136 E. Market St. into a 128-room Aloft hotel.
Meanwhile, workers next spring are expected to wrap up construction of a 316-room Hyatt Place/Hyatt House project across the street from Bankers Life Fieldhouse. The developer is Minneapolis-based CSM Corp.
In September, Indianapolis-based developer Keystone Realty Group rolled out a blockbuster plan to spend $141 million on the redevelopment of two key downtown buildings, including $61 million to transform the mostly vacant Illinois Building at Market and Illinois streets into the state's first Intercontinental Hotel.
Keystone's plan also calls for an $80 million overhaul of the nearly vacant 23-story AT&T building at 22 N. Meridian St., converting it into a mixed-use tower with three restaurants, 131,000 square feet of office space, 160 apartments, and more than 300 parking spaces.
The city of Indianapolis committed $16.7 million to help finance construction.
In 2018, activity likely will heat up on the fringes of downtown. Early in 2018, an investment group headed by former Angie's List CEO Bill Oesterle bought the company's former 17.5-acre campus near East Washington Street. Oesterle has said he wants to redevelop the buildings into a mix of residential, retail and office space.
West of downtown, Indianapolis-based Ambrose Property Group is pulling the trigger on a $1.4 billion redevelopment of the 103-acre former GM stamping plant site. Ambrose envisions 8 million square feet of development, including residential, hotel space, offices and parking garages.
Northwest of downtown, officials are about to break ground on the 60-acre 16 Tech innovation district. The 30-acre first phase will include construction of about 240,000 square feet of office and research space, an apartment complex, and renovated warehouse and office space along Waterway Boulevard.
Perhaps the biggest question mark hanging over downtown remains what will happen to the former Carson's department store space, which has been vacant since April, leaving Circle Centre mall without an anchor.
Real estate observers have rattled off a range of possible uses, such as new restaurants or office space for a tech company.•
Please enable JavaScript to view this content.