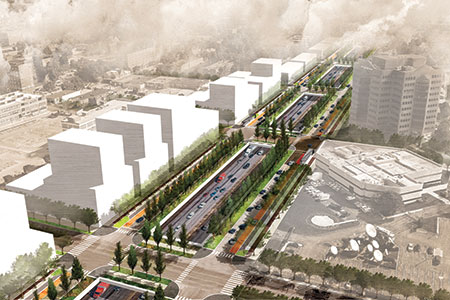 In response to the Indiana Department of Transportation's planned north-split project, a group of individuals and organizations formed the Rethink 65/70 coalition in January to voice their concerns about the project.
INDOT announced in the fall of 2017 that it planned to reconstruct the Interstate 65/Interstate 70 interchange on the northeast side of downtown, adding lanes on both highways, widening some bridges and adding others, and reconfiguring the I-65 exit and entrance ramps along 11th and 12th streets.
Rethink 65/70 expressed a variety of concerns, including its view that widening the highway would hurt surrounding neighborhoods by bringing the roads even closer to existing buildings.
The group won the support of the Indy Chamber and Mayor Joe Hogsett and urged INDOT to consider other alternatives.
In response to public input, INDOT said in September it would not add extra through lanes to the interchange as planned. INDOT also said its plans now call for the construction of retaining walls in certain areas that are only 7 to 11 feet high at the top of existing berms, rather than the much-higher retaining walls at the foot of the berms that it had originally proposed.
Rethink came back with a vision of its own in November—a plan that would use a two-level highway system for the north, east and south legs of interstates 65 and 70—the so-called inner loop downtown.
Under Rethink's plan, through traffic would be routed to below-ground lanes in a kind of open-air trench, while local traffic would travel on street-level lanes.
In response, INDOT spokesman Scott Manning said the agency would review Rethink's ideas, but that it's "committed to moving forward" with the plan it announced in September.•
Please enable JavaScript to view this content.