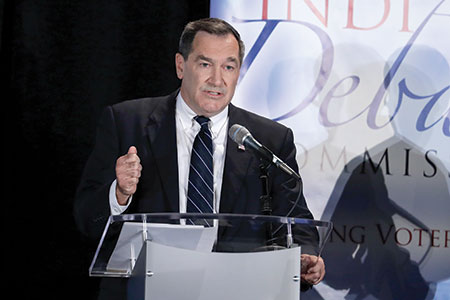 Democratic U.S. Sen. Joe Donnelly spent the year in the national spotlight, as his re-election bid was one of the most-watched in the country, thanks to Republican President Donald Trump's 19-point victory in the state just two years earlier.
Donnelly ran against Republican Mike Braun, who shook up Indiana politics this year, as he defeated U.S. Reps. Todd Rokita and Luke Messer in the GOP primary in May.
Dozens of outside groups poured money and time into the race, with airwaves filled with negative advertisements of both candidates. The campaigns and outside groups spent more than $100 million on the race.
Political analysts had expected a long night and a close race on Election Day Nov. 6, but Braun took a quick lead and the race was called early in the evening. Braun won with 51 percent.
The loss was significant for Donnelly, who has held a federal office since 2007, and Indiana Democrats, as the party now does not control any statewide elected offices.
Other election highlights included:
◗ Indiana followed a national trend of seeing a spike in the number of women running for state and federal offices, with 72 female candidates on fall ballots—a 64 percent increase from the number of women who ran in 2014.
◗ One big upset in the Indiana Senate was Democrat J.D. Ford defeating Republican incumbent Mike Delph in the 29th District. Ford is the state's first openly gay lawmaker.
◗ Voters approved two funding referendums for Indianapolis Public Schools. The operating referendum is expected to generate $220 million over eight years, while the capital referendum should bring in $52 million.
◗ Critics of the Indianapolis Public Schools administration unseated two incumbent school board members—retired IPS teacher Susan Collins won over former board President Mary Ann Sullivan and federal worker Taria Slack defeated Dorene Rodriguez Hoops.•
Please enable JavaScript to view this content.