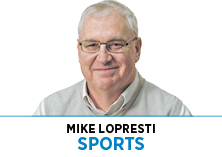 Can this be, another decade nearly gone? The 2000-Teens are on the clock, with one white-flag lap through the calendar remaining, so maybe we should remember how much has been crammed into the memory banks sports-wise since Jan. 1, 2010.
When this decade began, Indianapolis had never hosted a Super Bowl or a Big Ten football championship game. Lucas Oil Stadium had been open less than 17 months, and the Pacers played in Conseco Fieldhouse.
As we close in on 2020, the success of the Super Bowl remains a landmark moment, the Big Ten title game is a staple, and it's Banker Life Fieldhouse. But not for long.
When this decade began, the Indianapolis 500 was hoping the big events to come —the 100th anniversary of the first race in 2011, the 100th race in 2016—would boost an iconic event that had lost a step.
And now, the Indy 500 seems to have found another gear, even if the Brickyard 400 didn't.
When this decade began, the idea of Butler going to the Final Four was considered Fantasyland. But the team's young coach, Brad Stevens, had broader horizons.
And now, Butler is on its fourth coach of the decade and its third conference. Two national runner-up banners hang in Hinkle Fieldhouse. The unsung and underestimated teams out there in the nation all believe they can get to the Final Four, if they're good enough and fortunate enough. And they almost always bring up Butler as an example of why.
When this decade began, the Colts were closing in on another Super Bowl trip. Peyton Manning had put up the usual fine season and was still only 33. It seemed like No. 18 might be out there forever. Meanwhile, a freshman named Andrew Luck had led Stanford to the Sun Bowl.
And now, the Colts' long and winding road has gone from that Super Bowl season, to the crash in 2011 and Manning's exit. Luck was new and sensational, then he was battered and hurt, and now Luck 2.0—given pass protection—has led the great turn-around of 2018. He will turn 30 in September, meaning, in only four years, he will be as old as Manning was when he took his last snap for the Colts. Manning went to Denver and retired with another Super Bowl ring. He started the decade here as a superstar-in-residence and will end it as a statue on the corner of Capitol Avenue and South Street. Oh, one other thing. The Colts have played the New England Patriots eight times this decade—and lost all eight.
When this decade began, the Pacers were on the way to a 32-50 record, in what would be the fourth of five consecutive losing seasons. Later that summer, they would quicken the rebuilding by drafting a Fresno star named Paul George in the first round, and a free spirit from Cincinnati named Lance Stephenson in the second.
And now, both men have come and gone, while the Pacers spent much of the decade banging their heads against the LeBron Wall. Of their 38 playoff defeats since 2010, 20 came against a James gang in Cleveland or Miami. He personally ended their season five times. But he's gone from the East, and the Pacers are making very loud noises, chasing what would be their eighth and final playoff ride this decade. They're led by Victor Oladipo, who was a high school senior when 2010 dawned.
When this decade began, Indiana University basketball was on the way to a 10-21 record in Tom Crean's second season, part of a post-Kelvin Sampson hangover that saw the Hoosiers virtually disappear from the Big Ten radar screen. Would you believe an 8-46 conference record over three seasons? The dark ages. Meanwhile, Romeo Langford was in elementary school in New Albany.
And now, Indiana is ranked, and Langford is a phenom. It's been a good decade for championship team reunions in Bloomington: the 30th anniversaries of the 1981 and 1987 teams, No. 40 for the unbeaten 1976 Hoosiers. Bob Knight's boycott of IU did not wane, and he missed them all. Crean created some buzz, especially when Indiana upset No. 1 Kentucky in 2011, and advanced to three Sweet 16s. But the program seemed to stall, which is why Archie Miller is coaching Indiana and Tom Crean is coaching Georgia.
The Old Oaken Bucket will soon be another decade older. The Teens have seen Purdue go 3-30 in the Big Ten over a four-year trough, and Indiana never finish a football season with a winning record. But the decade will end with undeniable signs of life from both, as Jeff Brohm and Tom Allen try to keep fires lit beneath their programs.
The decade began with Charlie Weis outbound at Notre Dame, so the Irish would be changing football coaches for the fourth time in 14 years. They had won one bowl game in 16 seasons: the Hawaii Bowl.
And now, Brian Kelly apparently will go wire-to-wire this decade in charge of Notre Dame, and the Irish got back to playing for a national championship, which they haven't won in 30 years.
The decade began with Purdue basketball looking like a Final Four contender, led by juniors Robbie Hummel, E'Twaun Moore and JaJuan Johnson. The pieces all seemed in place.
Every Boilermaker fan knows what happened next. Hummel went down with a torn ACL in February 2010. Purdue still reached the Sweet 16 and looked loaded the next season with all those returning seniors. Except, Hummel tore his ACL again. Purdue later endured first-round overtime losses to Little Rock and Cincinnati, and Isaac Haas' broken elbow last March. Now it's the Carsen Edwards show, and the Final Four drought has entered its 39th season.
With a final chapter yet to be finished, the Teens have been a Ferris wheel—ups and downs galore for Purdue, IU, the Colts, the Pacers and Butler. There's one last chance for fate to be kind, figuring it still owes the teams of Indiana a break this decade. Especially Purdue basketball.•
__________
Lopresti is a lifelong resident of Richmond and a graduate of Ball State University. He was a columnist for USA Today and Gannett newspapers for 31 years; he covered 34 Final Fours, 30 Super Bowls, 32 World Series and 16 Olympics. His column appears weekly. He can be reached at mjl5853@aol.com.
Please enable JavaScript to view this content.