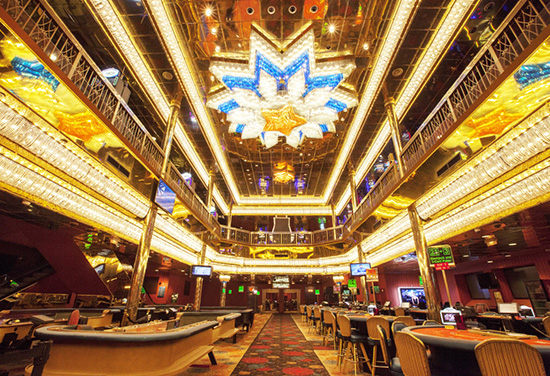 Hate-crimes legislation and increasing teacher pay might be the big talking points at the Indiana Statehouse this session, but it's a safe bet that gambling will stir up a few debates, too.
Legalizing gambling on sports like football, baseball and basketball is on the table, as well as a proposal to allow Gary's two casino licenses to relocate (one would stay in Gary, while the other could move to a yet-to-be-determined city).
Neither issue is new to the Indiana General Assembly, but lawmakers and special-interest groups are optimistic that this is the year the Legislature takes action. The U.S. Supreme Court issued a ruling in May that paved the way for states to allow sports betting, and new owners of Majestic Star Casino I and Majestic Star Casino II will join Gary officials in the push to relocate the gambling venues in that city.
Gov. Eric Holcomb's openness to both ideas could also help move things along.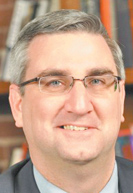 Holcomb
Holcomb said he welcomes the conversation about sports betting, recognizing that the state has long relied on gambling revenue. And he said he could see the benefits of moving one of Gary's casinos inland and another elsewhere in the state.
Still, the specifics tied to both issues—like whether professional leagues should get a cut of sports-gambling revenue or which city could get the second Gary casino license—could kill the chances of either proposal winning approval. And there's likely to be an argument about whether the proposals amount to expanding gambling in the state.
Proponents of the changes say the actions would simply be modernizing and improving the state's gambling industry, and the state could reap some $150 million in additional revenue from sports wagering alone in the first five years.
"We're taking the steps to remain competitive in the industry," said state Sen. Jon Ford, R-Terre Haute. "I don't think it's an expansion of gambling at the end of the day."
Betting on sports
Ford, along with fellow Terre Haute resident Republican Rep. Alan Morrison, pushed to get Indiana ahead of the game on sports gambling during the last legislative session, and they're both prepared to fight for it again.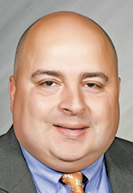 Ford
"If for some reason it were to be pushed to another year, obviously, I think we'd be missing out a lot," Morrison said. "I won't even contemplate that right now."
A report ordered by the Indiana Gaming Commission and published in October predicted that direct tax and fee revenue from sports wagering in the state could total $148.1 million during the first five years.
"Whether some people like it or they don't, it's hundreds of millions of dollars back to the state," Morrison said.
One of the key issues in the sports betting debate is whether it's allowed on smartphones, rather than in person only. Advocates say that, without mobile betting, sports gambling is not worth pursuing.
"It'd kind of be like passing a law that's 20 years old," Ford said. "We're now doing everything on our phones."
Restricting sports gambling to casino or off-track betting sites could also mean the law has less of an impact on the black market. According to the American Gaming Association, $107 billion is wagered illegally on sports every year.
"They're not going to the casino, obviously. They're doing it from sitting on their couch," Morrison said. "They're not going to then all of a sudden decide to change from their couch to a brick-and-mortar facility just to do that."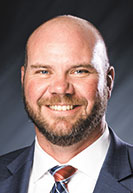 Morrison
Morrison's bill would allow users to register online, while Ford's bill would require individuals to go to a casino or an OTB to initially sign up for mobile betting. Ford said he thinks that's a compromise to get people to the casinos and provide more security.
Other details at issue will be integrity fees, tax rates and what data is used to determine bet winners.
Neither Morrison's nor Ford's bill will include an integrity or royalty fee paid to professional sports leagues. Some of those leagues are seeking funding to cover what they say will be additional costs associated with data monitoring and integrity training. A representative from the NBA told lawmakers this summer that the league wanted a 0.25 percent royalty fee included in the law.
"I've never bought into the argument that the leagues needed revenue for integrity purposes," Ford said. "They never really made the case to me."
Last year, Morrison's bill included a 1 percent integrity fee, but he removed it this year. He said the teams will benefit from the marketing and increased attention paid to their games.
"People become more interested in a game when they have a stake in it," he said. "Even if it's $5, if you have an interest in it, it will certainly help that entity."
Pete Ward, chief operating officer for the Indianapolis Colts, said it's early to say exactly what the team would want included in any legislation, but—at a minimum—the Colts would expect some type of royalty, a strong regulatory framework and a requirement that official NFL data be used for determining the outcome of bets.
The Indiana Pacers declined to comment.
Holcomb said he's also concerned about how sports betting would be regulated to ensure games aren't being fixed.
"I don't want to sacrifice the integrity of the game, of the competition," Holcomb said. "There are ways to do that."
Matt Bell, president of the Casino Association of Indiana, said at a recent legislative conference that legal sports betting can actually help catch game fixing because more regulators are paying attention to it.
"We think it adds to the integrity of contests," Bell said.
Morrison's bill would require that official data be used for in-game bets, meaning, once a game has started, only information from the sports league could determine the outcome of a bet.
Ford's bill does not include a requirement for using league data. Under his bill, casinos could determine what data to use.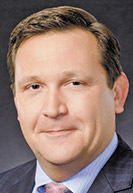 Bell
Both lawmakers are also proposing lower tax rates on gambling revenue than the rates in last year's bills: 6.75 percent versus 9.25 percent. The lower rate is the same as Nevada's.
"The lower the tax, the more we'll bring in off the black market," Ford said.
Bell said a low tax rate is one of the keys to making sports wagering successful for the casinos.
Major casino moves
Separately, officials in Gary will push again to move one of the city's two casinos off of Lake Michigan to a location that could generate more traffic. The second Gary casino license could be up for grabs.
Majestic Star Casino and Majestic Star Casino II are both on Lake Michigan's Buffington Harbor, an industrial area already occupied by companies like Carmeuse Lime & Stone, Olympic Steel and U.S. Steel.
The casinos are among the smallest in the state—ranking third- and second-lowest in total win dollars in 2018—and the location could be contributing to the problem.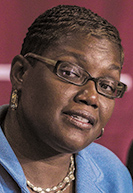 Freeman-Wilson
"The concept of having a casino in that footprint … you know it's easy for me to come in and say, 'Well that was a bad idea,' 20 years later," Gary Mayor Karen Freeman-Wilson said.
Gary city officials say the Lake Michigan corridor is ripe for logistics and transportation development, and a study the city commissioned last year shows potential for a port and a freight rail terminal at Buffington Harbor.
"We're getting inquiries every day now about that corridor," Freeman-Wilson said. "We're all better off with the casino being out of that corridor."
Spectacle Entertainment, a new company led by some of the same individuals who controlled Indianapolis-based Centaur Gaming before it was bought by Las Vegas-based Caesars Entertainment Corp., is in the process of acquiring Majestic Star and Majestic Star II. The new owners see a benefit to moving the casinos out of the harbor.
But that requires approval from state lawmakers, and the state has never allowed an already-open and operating casino to move to a different city.
Lawmakers moved the license originally intended for Patoka Lake to French Lick, but that occurred before the casino actually opened.
The General Assembly also passed a law in 2015 that allows riverboat casinos to shift to land-based locations adjacent to their docks. Tropicana Evansville Casino was the first to make that move and Horseshoe Southern Indiana will do so next year.
But Gary officials want to move one of their casinos miles from its current location, to a spot along the Interstate 80/Interstate 94 corridor, which sees 300,000 vehicles every day. Freeman-Wilson said that, even if the casino could get 5,000 of those cars to stop, that would be a win.
That move would free up Buffington Harbor for new development.
"We haven't run across anybody that doesn't think Buffington Harbor is better utilized as a commercial port," said John Keeler, general counsel for Spectacle. "Next in terms of acceptance is moving one of the Gary licenses to a more commercially viable location in the city of Gary. For the most part, I think lawmakers are pretty convinced that is a pretty reasonable proposal that is in the best interest of Gary and the state."
But, Keeler said, the "harder question seems to be—and where there is not a unanimity of opinion—is how best to deal with the second license.
"Gary doesn't need it," he said. "What is the process in terms of where and how that second license is utilized?"
Freeman-Wilson said she is not opposed to the second license leaving Gary.
Terre Haute has emerged as a possibility. One of Spectacle's principal investors is Terre Haute entrepreneur Greg Gibson. But while Keeler predicted that would be a successful location, Spectacle isn't publicly lobbying for a specific site.
Ford, who has previously filed legislation to open a casino in Terre Haute, agreed that relocating the second license will be the harder discussion for lawmakers.
"I think Terre Haute is one of the better markets that impacts the other properties the least," Ford said. "But there has not been much talk about where that second license would be."
The impact on other casinos will be important to the debate.
Bell said his 11 members have 11 viewpoints on moving the casinos.
He said stability is important to his members, so they'll have to review any relocation proposal to see how it would affect other casinos.
"Obviously, everyone wants our industry to thrive," Bell said.
Morrison said, as long as it makes economic sense, the state should allow the casinos to relocate.
"If it's a win for that community and a win for whatever community that license moves to, and it helps enhance revenue back to the state, I think it's a no-brainer that we do that," he said.•
Please enable JavaScript to view this content.