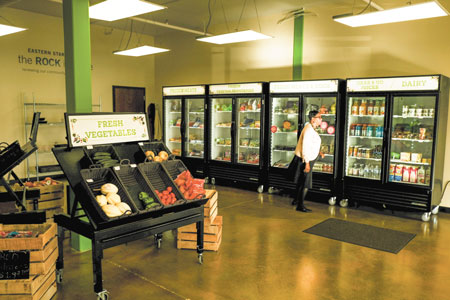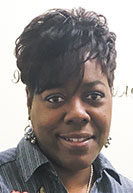 Griffin
Indianapolis resident Marilyn Griffin wanted to buy a home—but she didn't know whether she could afford it.
Frustrated by the continual mold problems in rental properties, the 53-year-old wanted something new and safe for herself, her 81-year-old mother, Shirley, and her 19-year-old daughter, Ralyn.
While out house-shopping, Griffin noticed construction near Eastern Star Church's main campus off East 30th Street. New homes were under development through Eastern Star's The Rock initiative, which is providing affordable homes and spurring other big changes in the neighborhood.

"I know it was God," Griffin said, as she immediately decided she wanted to buy one. "That was what we should do. We moved forward."
When Griffin and her mother purchased the home in August, they became the first homeowners to buy into Eastern Star's vision for the Arlington Woods neighborhood on the east side.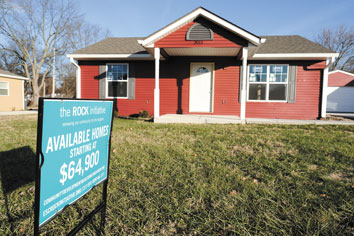 "When you actually own a home, that brings such a sense of accomplishment, as well as having an asset," Griffin said. "The Bible tells us to pass on to our children. This will be an asset for someone else to come behind me."
Eastern Star's The Rock initiative isn't just about building houses—although Priscilla Street, where the Griffin family now lives, looks 180 degrees different than it did just a year ago. New and renovated homes have replaced blighted properties and vacant lots.
The Rock initiative—named for the church's quest to "renew our community for the kingdom"—comes out of Eastern Star's desire to help the neighborhood, which is in the 46218 ZIP code.
The nearly 100-year-old church, which has 8,000 members, has had a center for about a decade that provides services to people in need, but church officials said they wanted to do more.
The needs in the area can be overwhelming. As IBJ has previously reported, the U.S. Census Bureau says more than 40 percent of people in 46218 live in poverty, the highest percentage of Marion County's 36 ZIP codes.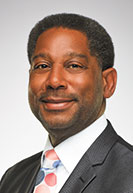 Johnson
The Rock initiative is "an expression of the vision and mission of our church," said the Rev. Jeffrey A. Johnson, Eastern Star's senior pastor. "We believe God called us to do this work. I was raised in 46218. To see groups come together and work together and leadership come together, that has been very exciting."
Making a difference
The Rock has four main initiatives: enhancing the range of housing options within a mile of the church, building a sense of community among Arlington Woods residents, growing residents' financial security, and enhancing their educational opportunities.
In just the last 18 months, The Rock has invested more than $5 million, with most coming from private donors and grants from Eastern Star Church. The Rock is run through Eastern Star Church's not-for-profit subsidiary, Jewel Human Services. Church leaders want to eventually invest $30 million to $40 million more.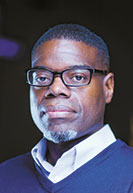 Murdock
"We feel like we're positioned to be part of this ecosystem that is trying to meet the needs of people," said the Rev. Anthony Murdock, Eastern Star's executive pastor. "We want to ensure we're sustainable. It's a big investment. This is the beginning."
So far, The Rock has built six homes and renovated five more on Priscilla Avenue. It eventually wants to build at least 25 more in the neighborhood. Each home costs at least $125,000 to build, but the group is selling them starting at $64,500.
"Affordable is a relative term to different people," Murdock said. "We started building the homes ourselves so we could keep that cost down. Every property we've built financially has been at a loss. But we don't evaluate gain by financial return. We're trying to give people a nice place to live that's affordable."
Johnson said the biggest reward so far from the investment is "to see kids playing in their back yards."
"It may seem like very little to some people," he said. "It meant a lot to us."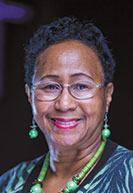 Rogers
Nancy Silvers Rogers, executive director of ministries, said the dramatic improvements on Priscilla Avenue demonstrate to residents that "we are here for the long haul."
"It was important to us to show impact with contiguous sites," Rogers said. "The feedback has been marvelous."
However, she added, "we don't take for granted that everyone wants that picket fence." So the initiative also is offering options for affordable rental housing.
In August, the Sunstone at Arlington Woods mixed-use apartment building opened, providing 25 low-cost one- and two-bedroom apartments. A one-bedroom, one-bath apartment there costs $650 per month.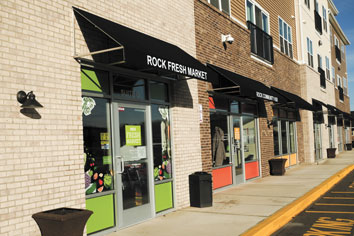 On the bottom floor is a mix of retail and social service agencies, which were chosen with care.
"Every partner on this first floor had to provide a service to the community," Murdock said.
One tenant is Financial Health Federal Credit Union, which specializes in customers with modest incomes and blemishes on their credit histories.
Landing the credit union was important because of the dearth of banks in the area and prevalence of "treacherous payday loans," Rogers said.
Credit union officials "have a sensitivity to talking to people in areas that have been disenfranchised," she said, which is important in re-establishing residents' trust in banking institutions.
And there's a new grocery store, Rock Fresh Market, staffed by church volunteers and run at a financial loss to The Rock initiative.
The market fills a gap in a food desert, while also providing nutrition education and cooking instruction.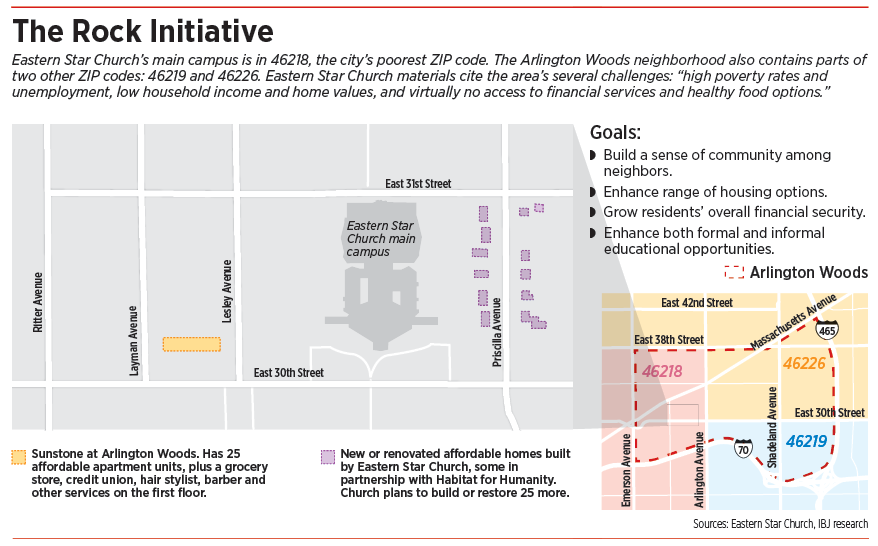 "We're probably paying more than what we're selling items for," Murdock said. "We want to sell them at Aldi or Walmart prices. We do not sell soda. We do not sell candy. We do not sell unhealthy foods. Part of developing a person is dealing with their physical health as well."
Murdock said The Rock is prepared to operate the grocery at a loss because "there's a spiritual gain."
"If the normal retailers are going to move out, then somebody has to do something," he said.
The Sunstone apartment building also offers a variety of social services: from life-skills coaching to offender-re-entry support to services from Neighborhood Christian Legal Clinic and the Indianapolis Neighborhood Housing Partnership.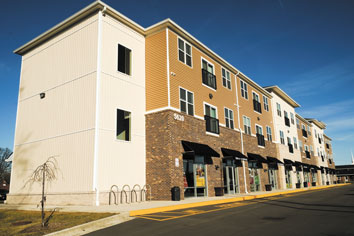 The building also has a behavioral health agency, as well as Jomo's Barbershop. A health screening clinic will open soon.
"We're trying to bring all of these services to one place," Murdock said. "We're talking about dealing with the entire person."
The Rock initiative also has given residents opportunities to start their own businesses.
Griffin, the new homeowner, is one of them. She opened Anointed Hands Hair Salon in September at the Sunstone building. She previously rented a booth.
"It didn't take me long to figure out this is a blessing," Griffin said. "I have increased in clientele and it's also good being around all of The Rock initiative businesses that are here. It's good being around positive people who have the same mindset. It's not just doing hair. It's being a friend to people."
About One City Worlds Apart
This is the latest story in an occasional series examining the growing gap between the affluent and poor in Indianapolis and ways to address the problem. Read the earlier stories
here
.
'A movement'
The Rock also has focused on non-brick-and-mortar investments.
The Arlington Woods neighborhood had not been officially organized, so The Rock worked with the Indianapolis Neighborhood Resource Center to create and organize a neighborhood association.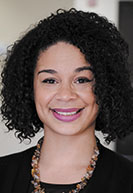 Gurvitz
That effort has resulted in community-beautification projects, local advocacy work, and "bringing a sense of community" to the area, said Ashley Gurvitz, community development manager for Eastern Star Church.
"We're not coming in as a community crusader," Gurvitz said. "But rather, walking with individuals."
The church's congregation has bought into the neighborhood-improvement movement.
When the church learned the elementary students at Indianapolis Public Schools 99—across the street from the church—needed laptops, Rogers said, The Rock initiative "put out a clarion call to the church," raising $100,000 in three months.
Encouraged by their impact on the neighborhood, church leaders have begun discussing a phase two of The Rock.
One element will be a community center that will provide STEM and vocational education, arts and other programming for kids.
"Right now is just a little start," Johnson said. "We want to expand on all of this."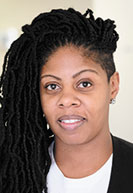 Owens
Katrina Owens, owner of Go Consulting LLC, a workforce and life-skills coaching business in the Sunstone building, said she believes The Rock could be a model for other struggling communities across the country.
"I look at this as being a movement," Owens said. "It's a movement in terms of leading the way in how churches, communities and neighborhoods should work together. I don't often see that. You can live in a neighborhood, but that doesn't make your neighborhood a community. It's bringing us back to that sense of a community, love and family."
Griffin agrees.
"I see this really taking off and becoming much bigger," she said. "I'll probably be gone on to glory by the time this really gets to where I see it could develop into, with young people stepping in and making sure this thing stays alive."•
Please enable JavaScript to view this content.