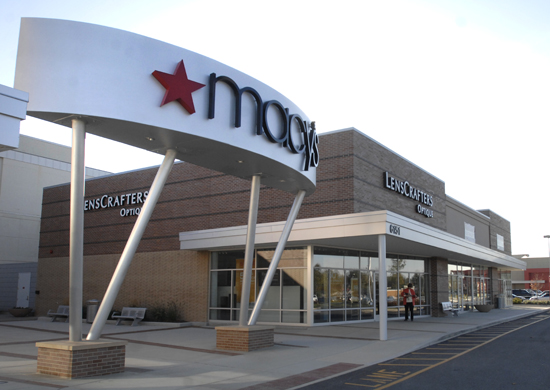 Macy's plans to close its store at Glendale Town Center, leaving the 60-year-old Indianapolis shopping center without its largest and oldest anchor.
Store employees were told of the closure plans Monday morning, according to mall landlord Kite Realty Group Trust.
The store is expected to close by April 1. A Macy's official said a clearance sale will begin in mid-January and last eight to 12 weeks. The store has about 90 employees.
Macy's "has been reviewing its real estate portfolio across the country to see if there are opportunities to improve the use of our assets," and decided not to renew its lease at Glendale, the retailer said in email to IBJ.
Macy's—and its predecessor store, L.S. Ayres—have occupied the mall at Keystone Avenue and 62nd Street since the shopping center's opening in 1958. L.S. Ayres & Co. was the original co-developer of Glendale Center along with Chicago's Herbert Heyman and Howard Landau.
All L.S. Ayres stores were converted to the Macy's nameplate in 2006 after Macy's acquired L.S. Ayres parent May Department Stores..  
The closure leaves Macy's with two other department stores in the Indianapolis area—in Castleton Square and in Greenwood Park Mall.
The retailer said it will try to place non-seasonal employees at nearby Macy's stores. Those it can't place will be eligible for severance, including outplacement resources.
The 237,456-square-foot, three-level store Macy's store at Glendale takes up about 45 percent of the square footage in the 530,249-square-foot property, leaving a major hole to fill at the mall, which was revitalized by Kite a decade ago with a $40 million renovation that converted the indoor shopping center into an open-air "lifestyle center."
The company has a history of redeveloping struggling retail centers.
Officials for Indianapolis-based Kite said they are looking at the Macy's closure as a "redevelopment opportunity." The company said it considering uses for the vacated real estate that include retail, multifamily or "innovative and community-focused" possibilities.
"Glendale Town Center is a prime example of how great real estate has and will evolve in response to a dynamic retail landscape," Kite President Tom McGowan said in written remarks. "We are excited for the opportunity to re-imagine a center that has been a mainstay of the Indianapolis community for decades."
Glendale's remaining anchors include Target, Lowe's and Landmark Theatres.
Department store giant Macy's has been making cutbacks for years and has seen recent improvement in operations. The chain is expected to report its first year of same-store sales growth since 2014 when it reports 2018 results. The company has closed more than 130 stores since 2016, leaving it with about 595 full-line department stores nationwide.
Please enable JavaScript to view this content.