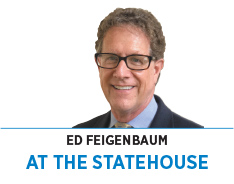 The Indiana General Assembly saw a pair of legislative leadership changes at the beginning of the session, yet the new faces might look somewhat familiar to longtime observers—in a fashion, at least, because they are second-generation lawmakers.
After 12 years of Senate leadership, David Long, R-Fort Wayne, retired in midterm; his tenure followed 26 years by Bob Garton, R-Columbus. So when Sen. Rodric Bray, R-Martinsville, was selected to replace Long, it was a momentous event.
Garton was known for leading the Senate out of a late-1970s ethics morass and into the new century with strict rules of procedure, respect for seniority and a long-serving cast of moderate fiscal leaders.
Long held together a caucus with an increasing divergence of conservative philosophies and worked effectively with Republican governors to shape their policies to legislative preference. He built a strong supermajority, despite the fact that the only common factor many members shared was the "R" after their names.
Less noticed was Rep. Phil GiaQuinta, D-Fort Wayne, quietly ousting Rep. Terry Goodin, D-Austin, as House Democratic leader after just one year of Goodin's leadership. Goodin had won the post by one vote over then-whip GiaQuinta. Goodin was widely regarded as the last "conservative" member of the House Democratic caucus, hailing from effectively the last rural district represented by a Democrat—in which no Democrat other than him could now win.
Bray's father, Richard, was a House-member-turned-senator renowned for his civility, patience and substantive knowledge of the criminal and civil justice systems. His grandfather, William, was a longtime congressman.
GiaQuinta's father, Ben, a veteran of the Battle of the Bulge, was a well-liked House member first elected at almost 70 years of age. He served about a dozen years, even running again successfully after an election loss interrupted his service. He viewed his legislative mission as bringing people together. Another GiaQuinta son was a longtime Allen County school board leader—perhaps an even more thankless post than being a legislator.
Longtime House Speaker Brian Bosma, R-Indianapolis, is the son of a man who served in the House and Senate across three decades, made a congressional bid (his slogan was, "You're a Good Man, Charlie Bosma") and was revered for his work on behalf of the blind and disabled—which continues today through the good work of Bosma Enterprises.
So three of the four leaders are "legislative legacies" of sorts, raised with a respect for "the system" and a sense of public service and selflessness. While Senate Democratic Leader Tim Lanane, D-Anderson, didn't have a parent precede him in the Legislature, he's been part of the system for two decades and leader of his caucus for more than five years.
What this suggests is that any changes in practice, policy and procedure are not likely to take place overnight, nor in a fit of pique.
The basic concerns and responsibilities of government are the same. Respect for the institution will be paramount. The differences you are likely to see from the practice of predecessors will be evolutionary, not revolutionary, and they will be grounded in the past—not only the lessons left by recent leaders, but also those rooted in history and in the lessons of their fathers, who served when policymaking was more rooted in compromise than confrontation.
Differences certainly exist between the people and politics of the last 50 years over which the fathers and sons have served. Bray observed that, in the six years in which he has served in the Senate, that body has seen a 50 percent turnover.
You should still expect the leaders to rise above some of the transitory concerns and lead with more holistic, well-grounded principles.
The respective pedigrees of the leaders offer much promise.•
__________
Feigenbaum publishes Indiana Legislative Insight for Hannah News Service. He can be reached at EDF@hannah-in.com.
Please enable JavaScript to view this content.