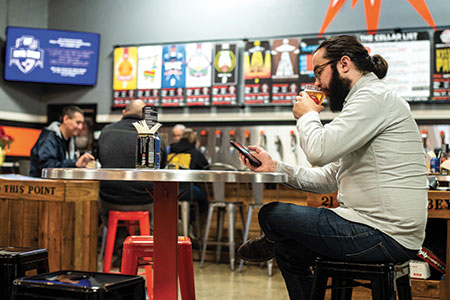 It's daunting to keep tabs on what Sun King Brewing Co. is doing these days.
Between its growing presence on the north side, recent management changes, an expansion of out-of-state sales, and a brand-new distilling business—the first batch of bourbon was put into barrels in late December—Sun King's owners have a lot on their plate.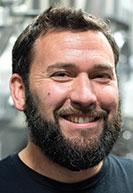 Robinson
Co-CEO Clay Robinson said a lot has changed in the craft beer industry since Sun King brewed its first batch in July 2009, and many of the company's initiatives are in response to those changes. The efforts, he said, are to help Sun King become a "better, smarter" company and to continue growth.
"We grew very fast, but we also grew very smart, very wisely," Robinson, 43, said. "Growing fast is really difficult—especially growing fast and maintaining quality and a sense of who you are."
In 2018, Sun King produced more than 30,000 barrels of beer and generated $12 million in revenue—essentially doubling output since 2013, when it produced 15,000 barrels and $5 million in revenue. The barrel count places Sun King's production second in the state, behind Munster-based 3 Floyds Brewing Co., which brewed 83,000 barrels in 2017.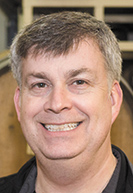 Colt
Sun King also has swelled employment over the past five years, from about 85 part- and full-time workers to more than 150. At least three full-time employees oversee the brewery's community programming, including its work with more than 500 not-for-profits and its involvement in fundraising events.
The company's come a long way since Sun King became the state's 32nd craft beer license holder nearly a decade ago.
Today, Robinson and 53-year-old Dave Colt, another founder, serve as co-CEOs. In an interview at Sun King's headquarters at 155 N. College Ave., the pair said they have high hopes for continued growth—by producing and selling more beer, branching into distilling, and expanding the company's presence in Hamilton County.
In July, Sun King opened Sun King Spirits, a $5 million, two-story craft distillery and taproom in Carmel's Midtown. The facility also plays host to four local food vendors and an expansive bar.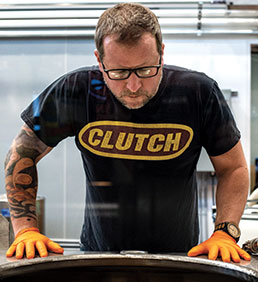 Distiller Adrian Ball, above, examines a vat of spirit byproduct at Sun King in Carmel.
Robinson and Colt own Sun King alongside Robinson's father, Omar Robinson, and Andy Fagg and Steve Koers—all of whom were founding partners and still play a role in operations.
In 2016, Sun King tapped Bob Whitt, then the executive director of the White River State Park Development Commission, to serve as president. But he stepped down last June and recently sold his stake back to Sun King after disagreements with other owners on the direction to take the company, Clay Robinson said. Whitt "is a great guy and a close friend," said Robinson, who called the departure amicable. "The decision was mutual."
In an email to IBJ, Whitt said he helped guide Sun King through significant growth. He said leading the company was "a great privilege," but "what the company needs now is a steady operations hand. Clay and Dave are more than prepared to lead the company forward and were ready to fully take the reins of leadership."
New directions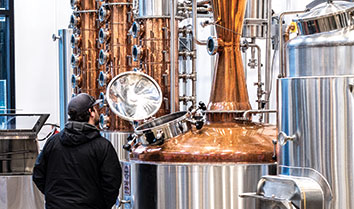 An employee looks into a distilling vat at Sun King Spirits in Carmel, which opened last year.
Colt said Sun King had been considering distilling as far back as its inception. But the founders' experience was in brewing—both Clay Robinson and Colt had been brewers at Indianapolis brewpubs—and they decided to focus on "what we were good at," Colt said.
The proliferation of craft breweries across Indiana (from about 30 in 2009 to more than 150 today) led the owners to revisit the idea. Distilling provided a new revenue stream, while also giving the company a way to expand into a new location that wouldn't be a carbon copy of its downtown taproom.
The distillery began by making bourbon, which will have to be barrel-aged about four years. The distillery soon will move on to rum, agave, vodka and gin—all of which can be produced much faster. Sun King expects to distill about 20 cases of each by mid-2019.
Sun King will sell the liquor at Sun King Spirits in Carmel and likely also at its 13,000-square-foot specialty-production craft brewery and taproom slated to open late this spring at The Yard, a 17-acre culinary district under construction in Fishers. After that opens, Sun King plans to close a small-batch brewery and taproom in a strip mall on East 96th Street in Fishers.
Robinson and Colt declined to say how much revenue they believe the distilling business will generate. But they said they eventually might explore selling their spirits in liquor stores.
Tristan Schmid, communications director for Brewers of Indiana Guild, which works with craft breweries around the state, said the group is seeing more breweries try new ideas, including distilling.
He said it's becoming more difficult for smaller breweries to get their name out because of the proliferation of competition. So, many are raising their profile by opening neighborhood breweries or taprooms.
Meanwhile, he said, larger breweries, like Sun King and Bloomington-based Upland Brewing Co.—which is now making kombucha, a slightly alcoholic tea—are trying to expand their customer base through additional product lines.
Bulked-up distribution
Sun King sold its beer in liquor stores through self-distribution from the start. In a major expansion in 2016, it developed relationships with distributors and began selling in grocery stores, as well.
A handful of its beers are sold outside its taprooms, including Sunlight Cream Ale, one of its first beers and the one that still accounts for about 40 percent of all production. Others are the Scottish-style ale Wee Mac, Osiris Pale Ale and SKB IPA.
The company moved beyond Indiana's borders in mid-2017, when it began distributing in Chicago and Louisville.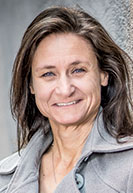 Herz
"The decision to sell out of state is generally seen as a big step in the industry," said Julia Herz, craft beer program director for the Brewers Association, a national trade group. She said most of the 7,000 U.S. craft breweries don't sell beyond their own state, "sometimes not even past their [own] front door."
They often have trouble penetrating new markets, she said, given the limited number of draft lines in bars and shelves in stores. Craft beer is about 4 percent of the entire retail beer market, she said.
Sun King could not have become so expansion-minded were it not for state legislation it heavily lobbied for and helped pass in 2015 that lifted the annual barrel limit for craft brewers from 30,000 to 90,000.
The brewer sells more than 90 percent of its beer in Indiana but continues to make headway elsewhere. It has beer in stores throughout Illinois, as well as in Cincinnati and Dayton in Ohio. It plans to distribute across Kentucky within the next year.
Robinson said one adjacent state Sun King is avoiding for now is Michigan, whose hyperlocal beer scene makes the state a tougher market to crack.
On the other hand, Sun King saw opportunity in Florida—home to many former Hoosiers, as well as several bars that cater to graduates of Indiana colleges and universities. The company began selling in Florida last July, and it now is the company's No. 2 market.
"It's a big state with a whole lot of people, so that's not terribly hard to do," Colt said.
Embracing independence
No matter how broadly Sun King expands, Robinson said, it plans to remain locally owned.
"A few years ago, we got approached and had an opportunity to sell our brewery and we did a lot of soul searching to figure out what we were doing and why we were here," Robinson said. "It was a good opportunity … but it wasn't [for us]."
Robinson and Colt both said they have no regrets about turning down the offer. They called their work at Sun King fulfilling and meaningful.
"We vision and we talk about what we want to do and how we might want to do it," Robinson said. "But as everything rolls out, we try to make the smartest and best decisions for Sun King and all of the people who are involved."•
Please enable JavaScript to view this content.