Education reform group The Mind Trust has spent more than a decade pushing dramatic changes in the way schools in Indianapolis can operate—changes that have largely come to pass.
Charter schools have flourished in the city and are operating within the Indianapolis Public Schools district as partners, not competitors. Educator-training groups like Teach for America have placed more than 1,400 teachers in local schools.
And political leaders have largely bought into The Mind Trust vision.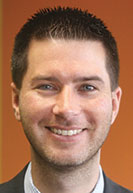 Brown
But now, The Mind Trust, deep in its execution phase, is seeking to prove its vision is working for kids. Armed with three new grants totaling $24.4 million, the not-for-profit will continue opening schools and create a support system for those that already exist.
The challenge sits in the lap of Brandon Brown, the CEO who took over for founder David Harris when he left in 2018 to join a new national education reform group he helped found.
Brown called the grants "a really exciting validation of the groundbreaking work that's happening here."
"It's not lost on us that raising $24.4 million in such a short amount of time is an immense responsibility that we carry to ensure the resources are used wisely and are going toward the kids that need them the most," he said.
Brown, who previously was director of charter schools for the city of Indianapolis, takes the responsibility to "stay ahead of the curve and evolve" seriously.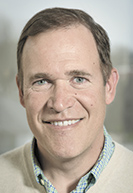 Harris
"What we don't want to see happen here is for the reformers to become the establishment," Brown said. "One of the roles of The Mind Trust is to ensure that doesn't happen."
In some education-reform-heavy cities, like New Orleans, he said, "once you get to a certain scale, it's hard to continue the same urgency and the same truly innovative thinking that was the reason you got to that scale."
So The Mind Trust is embarking on a new phase of its "high-quality schools plan," stepping up its fundraising to tackle new and growing challenges. And it's trying to gain more grassroots support along the way.
The not-for-profit has received the three newest grants from one national and two local entities for its next few years of work, bringing the total raised by The Mind Trust in 2018 to nearly $30.4 million. Since its 2006 inception, the group has raised more than $108 million.
The primary grant, $18 million, came from The City Fund, a new national group founded in part by Harris. It is The Mind Trust's largest grant ever, and its purpose is to help expand local charter and innovation network schools.
"I think Indianapolis is on exactly the right path," Harris said. "Having been involved in this work for almost 20 years, it would be hard to imagine saying that 10 years ago. We should, to a large degree, keep doing what we're doing, which is a unique position for a city to be in. We don't need any sort of big legislative change. We just need to continue to execute."
The Mind Trust also received $3.42 million from Lilly Endowment Inc. to support Teach for America and the Indianapolis Teaching Fellows program operated by TNTP (formerly The New Teacher Project). The third grant—$3 million—came from the Richard M. Fairbanks Foundation to support The Mind Trust's operations.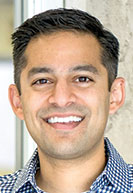 Patel
Teach for America's Indianapolis leader, Amar Patel, told IBJ the group will use the grant to grow its number of corps members and alumni from 700 today to 1,000 by 2023. Also by that year, it will seek to have more than 50 percent of incoming corps members identify as racial minorities.
The Mind Trust intends, for now, to keep up its current pace incubating new schools, which it does by awarding paid fellowships to promising school leaders to develop an idea for a new school.
IPS can then adopt and implement primarily by restarting an existing school. The Mind Trust is incubating about six schools a year, but not all the ideas have led to a new school.
Many of those that have opened are among the 18 innovation schools within IPS. Innovation schools—a term defined by a relatively new state law, one advocated by The Mind Trust—are autonomous and their teachers are not involved in the IPS union or subject to the whims and bureaucracy of the central office.
But The Mind Trust is also trying to expand past its bread-and-butter work. It's not all about helping to launch new schools.
'Sink or swim'
The grants, especially The City Fund grant, will also allow the not-for-profit to step up its support work for existing schools.
"It's not enough to recruit great leaders and then let them sink or swim," Brown said. "We need to recruit great leaders and then give them all the supports and tools necessary."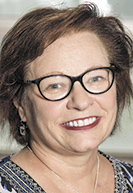 McNeal
Janet McNeal, president of Indianapolis Classical Schools, which runs Herron and Riverside high schools, said she supports that vision. She said a lot of national funders are interested primarily in funding new schools.
"Sometimes you don't know what you need until the school has been up and running for a year or two years," McNeal said. "I'm hoping there is a pocket of funding that will be able to serve existing schools. There's never enough money to be able to fund the programming that is not just nice to have, but a true need."
The basic bargain of charter schools is that school leaders are given more autonomy than traditional school leaders, who are subject to the demands and vision of a central office, in exchange for strict accountability.
Brown said the increased focus on school support is a recognition of the fact that Indiana schools are held to high standards—and that their leaders have been entrusted to make lasting changes.
"With this new world of rigorous assessments and standards, curriculum matters, instructional support matters, so much more than they did in the past," Brown said.
And though he sees promise in the academic performance of Indianapolis' innovation and charter schools, he said "they're not where they need to be from an objective standpoint."
"That means we have a moral imperative to come in and provide as many supports and resources to schools so the level of instruction matches the expectations," Brown said.
McNeal, who has been partnering with The Mind Trust through the launch of Riverside High School, said having access to The Mind Trust's network has been invaluable for her school leaders and educators. For example, The Mind Trust sponsored five Indianapolis Classical School leaders to participate in a graduate program for principals called Relay Graduate School of Education.
"It has really influenced our professional development time and we're seeing a lot of growth faster than we've seen it before [in new teachers], and we couldn't have possibly afforded that without The Mind Trust," McNeal said.
Patel, of Teach for America, said he is excited about The Mind Trust's focus on improving existing schools "so that schools are able to meet the higher learning standards that are rightfully in place. It ought to be our city strategy."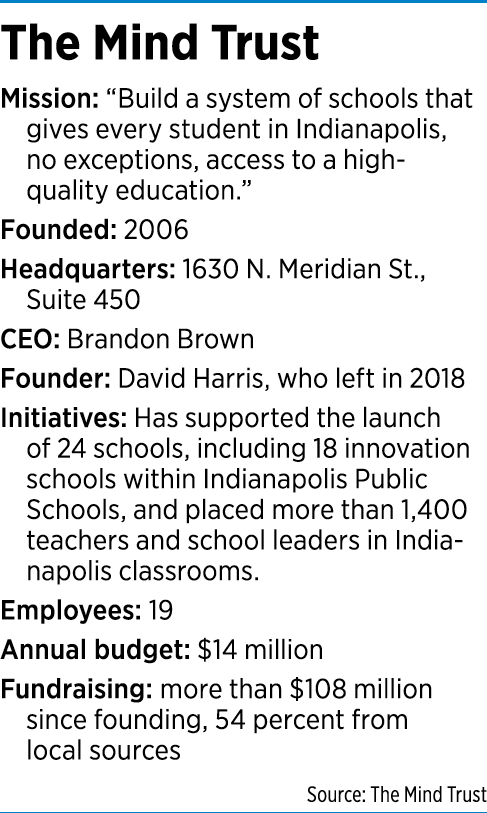 Support and criticism
Brown also wants to step up the group's work on generating grassroots support to continue the reforms The Mind Trust has ushered in—resembling the work of Stand for Children, which rallies parents whose children attend schools that are being converted or restarted within IPS.
While Stand for Children focuses on a relatively small number of families each year in targeted schools, Brown said The Mind Trust is hoping to widen family and neighborhood support for autonomous schools throughout Indianapolis.
More than 22,000 families have children attending contractually autonomous schools like charter and innovation schools in Indianapolis, according to Brown—families that could be advocates.
"They need to be informed, empowered and continue putting pressure on decision makers to make student-centered decisions," he said.
That focus is coming at a time criticism of The Mind Trust's approach appears to be getting more organized.
That's most recently evidenced by the fact that two incumbent IPS school board members who embraced the district's partnership with charter schools—Mary Ann Sullivan and Dorene Rodriguez Hoops—were ousted in the 2018 municipal election. Voters elected Susan Collins and Taria Slack, who have both stated opposition to the district's direction.
After the election, The IPS Community Coalition—which supports traditional public schools—put out a statement celebrating election wins that criticized The Mind Trust as a "corporate reform institute." The coalition said voters sent "a clear message that the community is fed up with corporate reform."
However, Brown said most Mind Trust opposition comes from "families that have been able to leverage their privilege to get what they want," he said.
"When we hear criticism of the reform happening in IPS, more times than not, [it's] coming from white, wealthier families who are OK with the current status quo."
Brown said the broad financial support the group has received is "a clear indication that the momentum to continue the current vision in the district is clear."
What's the end game for The Mind Trust? Does it want to convert all IPS schools into innovation network schools, free from the grasp of central office bureaucracy?
Brown said the question is not that simple to answer. But he said, "we're obviously not going to be doing school incubation at the same scale forever."
"We think there are too many variables and too much context that needs to be understood to put hard and fast numbers on that," he said.
What he can promise is more change.
"What has made The Mind Trust successful for almost 13 years is our ability to shift as the landscape shifts and to reimagine ourselves over time," Brown said. "Our strategy four years from now will look different from what our strategy is today."•
Please enable JavaScript to view this content.