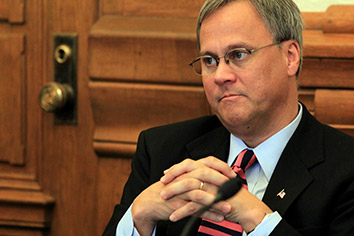 Republican Jim Merritt, a state senator for nearly three decades, is stepping into the Indianapolis mayor's race to take on incumbent Democrat Joe Hogsett this fall.
Merritt, 59, who formally announced his campaign Thursday afternoon, told IBJ he was running for mayor because he "loves my city," and is concerned about the city's high number of murders and "rampant homelessness."
"I'll be proposing bold solutions to our challenges," said Merritt, who has represented the Indiana Senate's 31st District since 1990. "They patch, we plan."
Merritt kicked off his campaign at the site of now-closed Happy Brewing Co. in the Butler-Tarkington Neighborhood, with windows that overlook Tarkington Park. He said the $5 million Tarkington Park, which was a public-private partnership, was "a great example or what people can do in the grassroots."
Merritt was supported Thursday afternoon by former Mayor Greg Ballard, who said "I believe he would be a tremendous leader for our city."
If Merritt wins the Republican primary (former City-County council member Jose Evans, a Republican, also is running), he would face a tough battle against Hogsett.
Hogsett has several advantages: high name identification, a big campaign war chest of more than $2 million, and a built-in political advantage as an incumbent Democrat running in a city that is trending more blue.
In contrast, Merritt said he is starting with $10,000 in his campaign account and hopes to raise at least $1.5 million.
"This is a 10-month sprint and I hope you all come along with me," Merritt told supporters Thursday afternoon. "We're going to talk about bold new solutions. We are going to transform Indianapolis."
Merritt stepped down from his role as Marion County GOP chairman in December to devote the time to considering whether he should run for mayor. He has said that he spent the Christmas holiday break making calls to see if "the support is there, see if the funding is there."
He has previously expressed concern about whether the race is "winnable" as the city leans more Democratic. Merritt, in his Senate re-election campaign last fall, defeated challenger Derek Camp by a two-point margin, 51 percent to 49 percent.
Hogsett's allies seem poised to make an argument against Merritt by highlighting his past votes in the Indiana Senate.
"From support for President Trump to a vote for now-infamous RFRA legislation, Senator Merritt has consistently embraced views over the last three decades at the Statehouse that are out of step with the city he wants to represent," according to a statement from Marion County Democratic Party Chairman Kate Sweeney Bell.
Asked about the argument Merritt was too conservative to win the race, Merritt told reporters that he was "pro-life" and proud about it, and that he would be happy to debate anyone on his past votes.
Hogsett could be vulnerable on the issues of crime and infrastructure.
Indianapolis had 159 criminal homicides in 2018, marking its deadliest year ever. That follows three previous record-breaking years. That could be a challenge for Hogsett, who ran on an anti-crime platform.
Merritt previously told IBJ that the Republican mayoral candidate should be talking all about basic services, like how quickly snow is plowed and potholes are filled.
And, he said, "No. 1 will be, and always will be, public safety."
Please enable JavaScript to view this content.