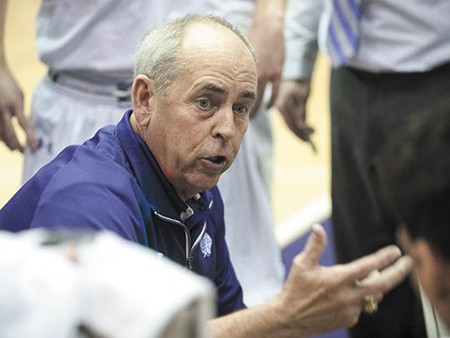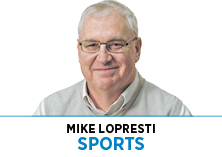 AVOCA—The little white post office where Johnny Holmes' mother used to be postmistress is still in business. The creek still rolls through town to the state fish hatchery—the creek the big kids used to throw Johnny Holmes into when he got too brash during neighborhood basketball games. The house is still there, with the basement Johnny Holmes and his brother once used as bedrooms. There's a lot of yesterday in Avoca.
These days, Johnny is better known as J.R. Holmes, and lives just up the road coaching basketball at Bloomington South. He began this week with 798 career victories, which means No. 807 is drawing ever closer. When that happens, Johnny Holmes will have passed Jack Butcher and own more wins than any high school coach who has ever lived in this state.
J.R.'s brother Mike still lives in Avoca, a village of no stoplights and one mini-mart, just off State Road 37 near Bedford. So does one of his sisters, Jan Kirk. Also, old friend Donnie Parrish. Another sister, Debbie, isn't far away. "Couldn't beat it," Mike said of growing up in such a place. "There wasn't anything in town but family and the fish hatchery."
In Avoca, they can't wait to be there for Johnny Holmes' big moment, whenever and wherever.
"He's been the glue to our family," Kirk said. From her front steps, she can see across the creek to a parking lot that used to be the neighborhood basketball court her father helped build, where her brothers spent so much time.
"I was sitting here the other day thinking about the first game he ever coached," Mike Holmes said from his living room. "I think it was Borden, when he was at Tunnelton. First varsity game and he got beat. I told him the other day, 'You lost your first game, because I was there. More than likely, unless you win the state, you'll lose your last game as coach.'
"He said, 'Yeah, but there's been a hell of a lot of wins in between.'
"It means a lot to the family. My dad, I'd give anything in the world if he was still living. He was so proud of him."
Consider the Hall of Fame career of J.R. Holmes. Nearly 800 victories, 655 of them at Bloomington South. Forty-nine years as a head coach, still going strong as he nears his 72nd birthday. He's come a long way from Avoca, where he earned 16 letters in four sports as a Needmore Hilltopper and led its one and only sectional champion in 1964. How many guys you know have a Needmore letter jacket somewhere in their closet?
"If you saw the movie 'Hoosiers', that's Needmore. 'Hoosiers' to a T," he said. Especially games on that Avoca court, where he'd show up early to get picked for a team, and then have to sit out for eons when he lost. That didn't go over well with Johnny Holmes.
"I'd be throwing rocks at them; they'd chase me down and throw my butt in the creek," he said. "Then me and my brother got older and got better and got to play longer."
Mike Holmes remembers. "He was so competitive. We had an old pingpong table we made out of a sheet of plywood. That's all we had down in the basement. If you beat him, you had to stay there until he beat you."
Competitive? Flash forward six decades to last season at Bloomington South, and a 70-year-old man in a gym shooting baskets by himself. That was J.R. Holmes, prepping to take on his players in a 3-point drill the Panthers often do after practice. "They were making fun of me. I said, 'I will win this sometime.' So I finally won." That was enough. He hasn't been in one since.
That fire still burns on a lot of Friday and Saturday nights. Bloomington South, with a junior-dominated team, is 12-3 and has eight regular-season games left, plus the tournament—so Holmes has a chance to pass Butcher by March. If not, next season.
"I say this and I mean it: I really had no idea, even any dreams, of having those numbers. When I started, I thought I was going to be a coach for five years. I had a master's in mathematics, and I was just going to try to make money in the business world. But I stayed in it, and I thought, 'if I could ever just win a sectional.'"
Now he's won 19.
"Everybody always asked, 'What's your goal?' And I said, 'I'd like to be able to say I coached a thousand games.' Well, that happened. Then they asked, 'Are you trying to get the record?' No, not really. My goal now is to coach 50 years. This is year 49. The good Lord willing and my health stays good—which it is—I'll coach next year. The record's going to come if I stay long enough."
But here's the thing. At last count, his old pal Jack Keefer at Lawrence North was only 12 victories behind him, so it's a two-man ascent up Mount Butcher.
"He might coach forever, and I might have the record for a month," Holmes said. "So that's never been a driving force for me."
There have been so many highlights along the way. The two state championships in 2009 and 2011, for instance, the first one unbeaten. Or the night his son Jonathan beat Bedford North Lawrence in the sectional with a late shot.
But a man does this long enough, there are nights he is absolutely crushed, too. Holmes has been knocked out of the tournament six times by overtime defeats—three by eventual state champions, including Romeo Langford's New Albany. But absolutely nothing hurt like the 1999 semistate, when North Central's Jason Gardner tied the game with a last-second 3-pointer, and the Panthers won in overtime. It was Jonathan Holmes' senior year, and that shot might have cost him the state title, the Trester Award and Mr. Basketball—he ended up second in the voting behind Gardner.
"That was very, very, very tough," J.R. said. Mike Holmes still remembers the return trip to Avoca with his parents as "the longest ride from Indianapolis I have ever taken in my life."
J.R.—the initials were forever attached to him in middle school because his middle name is Ray, and there were two John Holmes—understands his own ride won't last much longer. "As I look down the hallway, the light at the end of the tunnel is a lot brighter for me," he said. But he doesn't have other hobbies, and he loves his dual job as coach and athletic director. His children live away, so "the school and the teams are my kids."
As Kirk mulls her own retirement from teaching, she said of her brother, "They'll have to take J.R. out on a stretcher."
But first, there is the matter of a certain record.
"I've never mentioned that record to anyone," Holmes said. "I never think, 'Well, I'm 15 away, I'm 10 away.' Now my brother and sisters, everybody I talk to …"
Oh, yeah. Back in Avoca, Mike Holmes and Parrish were discussing how maybe one day there'd be a sign in town to commemorate its most famous son. Not far away in Heltonville, Damon Bailey has a statue. Mike Holmes mentioned that, while noting a wondrous bit of trivia: One day soon, both the all-time scorer and all-time coaching winner in Indiana history will come from Lawrence County. "What," he asked, "are the chances of that?"
About a sign in Avoca. "It'd probably have to be family that did it. The next question, where are you going to put it?"
Said Parrish, "We'll find a place."
They can get to that later. Bloomington South has to win a few more games, and then those who remember Johnny Holmes can savor the moment.•
__________
Lopresti is a lifelong resident of Richmond and a graduate of Ball State University. He was a columnist for USA Today and Gannett newspapers for 31 years; he covered 34 Final Fours, 30 Super Bowls, 32 World Series and 16 Olympics. His column appears weekly. He can be reached at mjl5853@aol.com.
Please enable JavaScript to view this content.