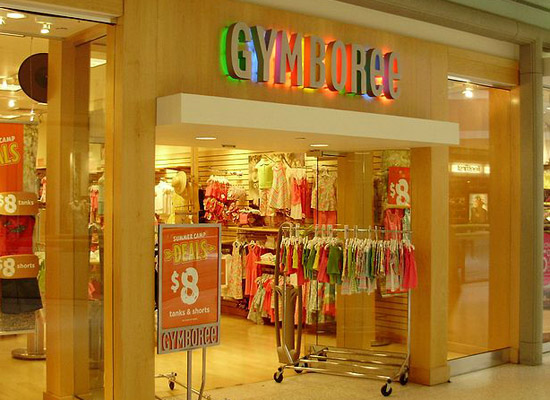 Children's clothing retailer Gymboree Group Inc. is expected to file for bankruptcy protection as early as this week and close all 900 of its stores under the Gymboree, Janie and Jack and Crazy 8 brands, including several in the Indianapolis area.
Citing people close to the matter, both The Wall Street Journal and CNBC reported Monday that the San Francisco-based chain would soon declare bankruptcy and liquidate its locations, with the possible exception of more than 100 stores under the higher-end Janie and Jack banner.
At least six stores in the Indianapolis area would close as a result. There are Gymborees at the Fashion Mall at Keystone, Clay Terrace in Carmel and Hamilton Town Center in Noblesville. Gymboree operates Crazy 8 stores at Castleton Square, Hamilton Town Center and Greenwood Park Mall. The Fashion Mall also has a Janie and Jack.
Gymboree reportedly is looking for a buyer for Janie and Jack. If one is not found, those stores would close as well.
This would be the second bankruptcy for Gymboree in less than two years. It filed for protection in June 2017, after six years without posting an annual profit. At the time, it had more than $1 billion in debt left over from a leveraged buyout by Bain Capital Partners in 2010, and it operated more than 1,280 stores.
A month later, it announced that it was closing more than 350 stores and was shedding most of its debt in a restructuring.
The Gymboree Corp. got its start in 1976 with the founding of Gymboree Play & Music, which offers a variety of classes for children 5 and under. There are about 700 Gymboree Play & Music locations worldwide, including area locations in Carmel and Greenwood.
The company began opening clothing stores in 1986.
In 2016, the company agreed to sell its play-center business to a Singapore-based investment group for $127.5 million. That narrowed Gymboree's focus to apparel.
Please enable JavaScript to view this content.