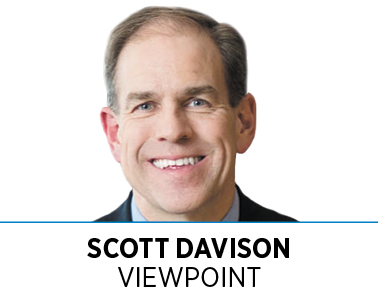 There has never been a better time to do business in Indiana. However, new research shows our region will need the combined efforts of business, government and civic leaders if we're to ensure that more people have access to family-sustaining jobs.
Last month, the Brookings Metropolitan Policy Program released a report commissioned by the Central Indiana Corporate Partnership titled "Advancing Opportunity in Central Indiana." The report shows only 35 percent of central Indiana workers (264,000) without a bachelor's degree held a good or promising job in 2017. In contrast, 73 percent (239,000 workers) with a bachelor's degree held a good or promising job.
A "good job" is defined by Brookings as providing health insurance and $37,440, or $18 an hour, in total cash compensation. Too many Indiana workers struggle to make ends meet, and projected economic growth alone won't generate the volume of good jobs we need, according to the research.
I found the Brookings report compelling and started looking at how my organization could be part of the solution. Here's a three-part approach that made sense for us:
◗ First, we can make sure every job at OneAmerica is, or can become, a good job. We identified 104 positions at OneAmerica that didn't meet the "good job" criteria. Most of the people in these jobs are strong performers and many have been with us a long time. These positions are important to our business model and can't be outsourced for a better or cheaper result. It makes business sense to ensure that the people holding these jobs feel valued and have a chance to advance.
In December, we announced to our more than 2,000 associates an initiative we call the OneAmerica Pathway to a Sustainable Income. Associates on the lowest end of our pay scale, and who have three years of sustained strong performance, can earn the opportunity to move to $37,440 in total cash compensation. Those with less tenure will stair-step to that amount over time, if their performance meets our high expectations.
◗ Second, we can continue to support community efforts in education, services for working families, and building a world-class business environment. Community connection is an important value for OneAmerica. Through our financial investments and thousands of volunteer hours, we're helping community organizations solve complex problems.
◗ Third, and perhaps most obvious, we can continue to be successful as a company. OneAmerica provides life insurance, long-term-care protection, retirement-plan services and employee benefits to millions of American families. As one of the top-performing companies in our industry, we've more than doubled our size over the last five years and added about 800 jobs. Our business success is good for us, our customers and the communities where we work and live. We need to make sure our employees fully share in our success as well.
I recognize the steps we're taking won't work for every company. I also understand that mandates to raise wages can create consequences that hurt the people they're meant to help. But we must start somewhere.
I urge other central Indiana business leaders to examine the Brookings research and consider how to respond. Many businesses might already be taking the second two steps I've outlined. Working on the first one is where we can continue to grow our businesses and advance opportunity in central Indiana.•
__________
Davison is chairman, president and CEO of OneAmerica.
Please enable JavaScript to view this content.