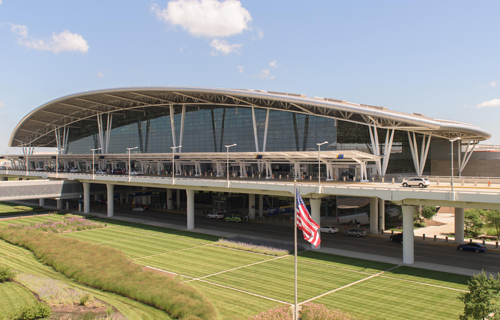 The Routes America 2020 conference coming to Indianapolis on Feb. 3-5 of next year could have a huge local impact even though the event itself is only expected to draw about 800 attendees, supporters say.
That's because the participants will include representatives from an estimated 80 airlines, giving the city a chance to show itself off to air route decision-makers. Thus the event could give a huge boost to the Indianapolis International Airport's continuing efforts to add more domestic and foreign routes to its lineup.
"By giving them the on-site, first-hand view, it helps them to see all that we have to offer," said Marsha Stone, the Indianapolis Airport Authority's senior director of commercial enterprise. "It's hard to always get that across on paper."
Last year, the state set aside $20 million for incentives to help attract more international flights. And Gov. Eric Holcomb last year identified Asia, Europe and Central and South America as high-priority regions to target.
Airline planners look at data to decide where to add new routes, Stone said, but data doesn't tell the whole story. Seeing a destination in person, and talking to local residents, can give an airline additional information such as which industries and companies are expanding and the growth potential for a specific route.
Routes Americas, an annual event, is one of several regional aviation conventions organized by England-based UBM Plc. Different cities serve as hosts for each event, which gives each host a chance to showcase its offerings to airlines.
UBM also organizes Routes events focused on Asia, Africa and Europe, as well as a global Routes gathering.
"Routes attracts the real decision-makers from the airline industry," said Gareth Baguley, UBM's head of host and event management for the Routes events.
The conference will take place at the JW Marriott downtown. In addition to representatives of about 80 airlines, attendees are expected to include airport and tourism officials from around the globe.
Baguley has been in Indianapolis for the past several days touring the Indianapolis Motor Speedway, White River State Park and other venues. The exact lineup of events hasn't yet been set, said Leonard Hoops, president and CEO of tourism group Visit Indy.
Hoops said the expected cost of hosting the event will be in the "upper six figures," although exact costs aren't yet known.
The Indiana Economic Development Corp. and the airport authority have each agreed to cover a third of the hosting costs, Hoops said, and contributions from Indiana's other airports, local businesses and other entities will cover the remaining third.
Please enable JavaScript to view this content.