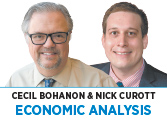 Is the U.S. federal income tax unfair? The progressive Democrats' answer is a resounding yes. The implication is that the poor pay too much and the rich pay too little. Before jumping on that bandwagon, it might be useful to actually look at the data.
The Internal Revenue Service, our federal tax collector, keeps good records on earnings and tax collections. Adjusted gross income, or AGI, is taxpayer income before most deductions, exemptions and tax credits. Tax paid is the amount a taxpayer actually remits to the federal government after all exemptions, deductions and tax credits are considered. The IRS reports total AGI and total taxes paid for income filers by percentiles. So, we know what the top 1 percent of income earners make and what they pay in taxes. Likewise for the bottom 50 percent.
Among the top 1 percent, average AGI in 2015 was $1,483,596. Among the bottom 50 percent, the average AGI was $16,211. The average top earner was making 92 times what each of the bottom 50 income earners made. But here is the rub: The top 1 percenter's average federal income tax payment was $402,038, while, for those in the bottom 50 percent, the average tax payment was $582. So, the rich filer paid 691 times what the average person at the bottom paid in federal personal income taxes.
According to expedia.com, a round-trip coach ticket to London from New York on a British Airlines flight from Jan. 25-31 is $741. A first-class ticket is $9,470.
Assume 50 passengers pay the $741 price and one pays the first-class price. What if British Airlines charged the first-class passenger 691 times what it charged the coach passengers, while maintaining constant revenue among the 51 customers? A little algebra reveals that if British Airlines "charged" like the federal government currently taxes income (A good collectivist analogy. Aren't we all on the same plane, after all?), it would charge $43,381 for a first-class ticket and $63 for the coach tickets. Yet to the progressives' way of thinking, this hypothetical fare structure is cruel and unfair to the 50 passengers paying $63.
We don't think the republic can work if high earners are the only ones paying for government. We don't think the economy can work if Congress declares an open season for new soak-the-rich-and-give-to-the-poor schemes. And make no mistake, this is the prevailing idea in the progressive wing of the Democratic Party.•
__________
Bohanon and Curott are professors of economics at Ball State University. Send comments to ibjedit@ibj.com.
Please enable JavaScript to view this content.