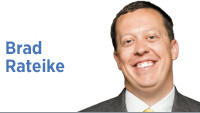 Earlier this month, I spent five days in McAllen, Texas, a city of 142,000 along the United States-Mexico border. I had been asked to assist with the White House advance team before President Trump's visit there. As we prepared for his arrival, we had the privilege of spending many hours with the women and men of U.S. Customs and Border Protection. The work they do to protect our borders is truly impressive. However, my takeaway from what we heard and observed is that there clearly is a serious problem at our border.
In the days leading up to the president's visit, we toured two official ports of entry, the local Border Patrol station and multiple sites along the actual border, which is the Rio Grande in that area.
At the ports of entry, we saw lines of cars and pedestrians waiting to be thoroughly screened to legally enter the United States. That screening process results in the discovery and confiscation of thousands of pounds of illegal drugs and other goods each month from individuals attempting to smuggle them into the U.S.
The CBP agents cited false compartments in cars and trucks, the use of high-resolution 3D printers to create the appearance of fruits and vegetables in crates, drugs wrapped in cabbage leaves in order to appear like produce, as well as specially-designed containers intended to mask scents from the CBP dogs.
At the Border Patrol station, we were shown some of the drugs and weapons that had been recently confiscated at a port of entry or found in an unsecured area along the border, including more than 500 pounds of marijuana, 117 kilograms of methamphetamine and 4 kilograms of heroin, along with fire extinguishers used to conceal 100 grams of heroin and crystal meth. We also saw confiscated gold-plated and diamond-encrusted handguns, an AK-47, AR-15 and a .50 caliber rifle.
Along the border between the ports of entry, we drove next to privately owned farmland which runs down to the banks of the Rio Grande. We were told of the network of cartel "informants" posing as field hands on the U.S. side who keep the cartels informed in real time about Border Patrol activity. This enables the cartels to plan their attempts to smuggle people across the river/border.
As we saw there, if a person can swim a lap in a swimming pool, he or she can swim the distance from the Mexico to the United States. This is one of several reasons CBP says they stop 20,000-30,000 illegal entry attempts each month, intercepting people from more than 100 different nations in that part of the border alone. For those who are unable to swim, inflatable rafts are used. We saw a pile of "permanently deflated" rafts at the Border Patrol station.
The women and men of CBP do their job under circumstances that are nothing short of stressful. More than once we heard stories about Mexican cartels issuing "bounties" on individual Border Patrol agents, often ranging from $5,000 to $21,000. Many of the agents we met with had been there for more than 20 years because they have a passion for the security of our nation. Impressive.
In the coming weeks, we'll continue to hear the president and Congress discuss next steps for border security. Whatever those may be, rest assured that after my trip there, I know firsthand that there is a real problem at the border, and there's nothing manufactured about that.•
Click here for more Forefront columns.
__________
Rateike is founder and owner of BAR Communications and served as director of cabinet communications for President Donald Trump. Send comments to ibjedit@ibj.com.
Please enable JavaScript to view this content.