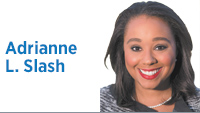 Here in Indiana, we don't have many federal government workers, but we do have some. Imagine being asked to go to work; concentrate on giving your best; and acknowledge that, at the end of the day, you will not be paid in a timely manner.
Now imagine going to your physical or electronic mailbox to open bill after bill, noting their due dates, then calling each company to explain your situation. Imagine being told, "That's why you should have a rainy day fund!" by your customer-service reps.
Thanks to student loans and a recession that did not allow for real earning power until well into our careers, many millennials are doing well to be able to save anything at all. Rainy day fund? To us, it's been raining since we started working.
We are not just seeing our friends and family suffer through the current government shutdown, we're also taking moral issue with federal officials who can't seem to do the job we elected them to do.
We will remember seeing some of our representatives flip-flop on issues, setting them on the wrong side of history (for us). We will remember those who did not condemn policy that will further damage our generation financially. We will remember the games they played to make sure this was the hardest-felt temper-tantrum of all time.
In addition, we will be most likely to remember the amount of harm's way we have been put in from lack of food inspections and safety precautions taken in air travel (in case you needed a stereotypical millennialism to digest).
In the past, a government job was regarded as "secure," and people were glad to have one. But we as a generation tend to be entrepreneurial, transient and reactive—and I can't help but believe this shutdown will likely move more of us to the private or not-for-profit sector for good.
As a result of many in our circle going an entire month—and maybe more—without pay, it will be interesting to see how many of our generation will consider a federal government job to be a "good, secure job" going forward.
I have no doubt we will handle this temporary financial beating, but it will come at an electoral cost. As a generation, we will remember this shutdown at the ballot box.
We'll be looking for candidates who care about community, have the business acumen to understand the importance of working within a budget, and genuinely care about the people they are representing. And with millennials projected to overtake baby boomers this year as the largest adult population in the United States, we shall be a force to be reckoned with.•
Click here for more Forefront columns.
__________
Slash is a diversity and inclusion consultant in the health care industry and is president of The Exchange at the Indianapolis Urban League.Send comments to ibjedit@ibj.com.
Please enable JavaScript to view this content.