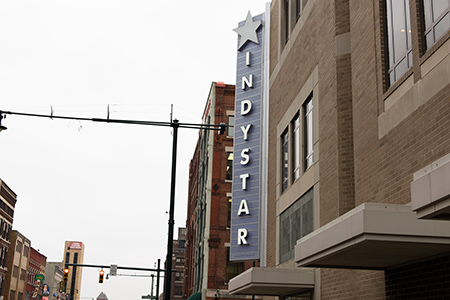 The Indianapolis Star has parted ways with at least three newsroom employees and two outside columnists, including well-known columnist Tim Swarens and financial columnist Peter "Pete the Planner" Dunn.
Swarens, a news columnist and opinion editor who has been at the Star for 22 years, tweeted Wednesday morning that he had just lost his job.
"I was told a few minutes ago that @indystar has laid me off," he posted. "I'm in shock. Not how I wanted 35-year journalism career to end."
Writer and editor Amanda Kingsbury, who has been at the Star for more than 10 years, confirmed to IBJ that she also was laid off Wednesday.
Daniel Bradley, news assistant, also learned Wednesday that his position was eliminated from the Star, he confirmed to IBJ. Bradley said he "should be able to land on my feet" after reviewing some opportunities.
In addition to making newsroom cuts, the Star also decided to stop running columns by Dunn as well as Michael Hicks, an economics professor at Ball State whose business columns are frequently published by the newspaper. 
"Budget cuts and whatnot," Dunn tweeted. "Six years, 315 columns, and lots of reader emails. Thanks for reading."
Hicks, in a tweet, thanked the Star for publishing his column "for many years" and pointed out that he was syndicated in at least 25 other newspapers.
The cutbacks come weeks after six longtime IndyStar employees departed the newspaper after taking early-retirement buyout packages offered by parent company Gannett Co.
Reached by phone Wednesday morning, Star Executive Editor Ronnie Ramos said "I don't have any comment about personnel matters."  
The colleagues of the affected Star employees reacted to the news on Twitter. 
Kingsbury tweeted to Swarens that "obviously I am feeling your pain as well."
"I'm so sorry, Tim," said investigative journalist Marisa Kwiatkowski to Swarens. "Thank you for all you've given to IndyStar and the community."
Vic Ryckaert, a breaking news reporter for the Indy Star, posted that he was "stunned" about the loss of Swarens.
"You have done some amazing work," Ryckaert tweeted. "Your series on human trafficking made a real impact."
Kingsbury told IBJ she thought the news was grim, but she hoped people would still support the Star.
"There are still many, many incredibly talented journalists who work at the Star," she said. "It's easy to complain about the Star but we really don't want to live in a city where there are no journalists, or too few journalists, holding powerful people accountable."
Accepting the early January buyouts were editorial cartoonist Gary Varvel, reporters Mark Alesia and Will Higgins, and editors Greg Weaver, Tom Leyden and Leisa Richardson.
Dunn, who initially started writing for IndyStar as a freelancer, eventually had his work run in USA Today and dozens of other Gannett publications.
Dunn said he had a "gut feeling" that his time with the Star may be coming to an end when he noticed the absence of the newspaper's Sunday business page.
But Dunn said his thoughts are about "the full-time people" who lost their jobs.
"I'm the least important part of this story," Dunn said. "This is 90 minutes of my week. It's their livelihood."
Please enable JavaScript to view this content.