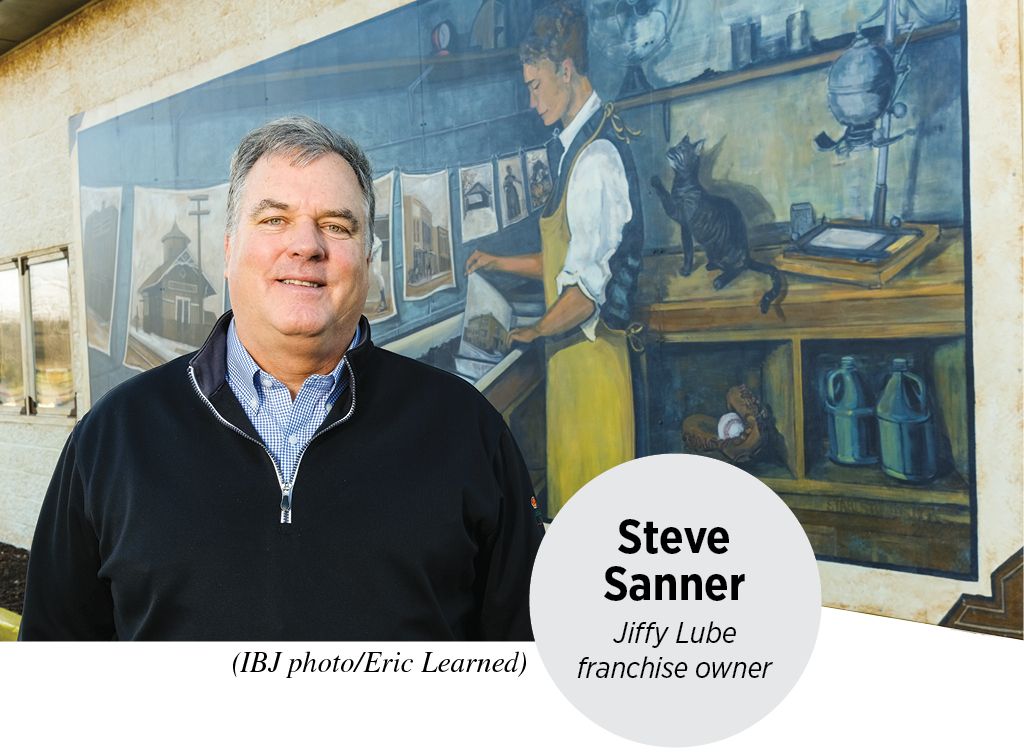 When Steve Sanner's Broad Ripple Jiffy Lube got tagged with graffiti several years ago, someone suggested that covering the graffiti with a mural might deter future vandalism.
After a conversation with a local arts group, Sanner realized the walls of his stores were a perfect "canvas"—so why not add murals to as many stores as possible?
The first murals went up in 2016 in Carmel and Broad Ripple. To date, Sanner has hired artists to paint murals at nine of his 48 stores. In partnership with the Arts Council of Indianapolis, he plans to add several more this year.
IBJ caught up with Sanner, 58, recently at his Brownsburg Jiffy Lube, which sports his favorite mural. The piece, painted last year by local artist Barbara Stahl, features a man in an old-time darkroom developing photos of the city's past and present landmarks.
In your mind, what makes a good mural for a Jiffy Lube?
Initially, we had a number of artists submit things that were car-related and we were very quick to say, "We don't want this to have anything to do with cars or Jiffy Lube." We don't want it to look like an advertisement for us. We want it to purely be public art. So we eliminated the car-themed proposals, just to avoid any confusion about what our goal is here.
What makes the Brownsburg mural your favorite?
As an art novice, this one makes sense to me. I understand it. It speaks to the history of Brownsburg and the future of Brownsburg in a very easy-for-an-art-idiot way to understand. She really did a great job of capturing the old and the new.
What reaction have you gotten from employees and customers?
Our employees have loved it. I hadn't really made the connection between public artists and tattoos. But our employees are way more artistic than I would have thought. They express that artistry through tattoos in many cases. And so a lot of them have been very interested in watching the artists work, and following the process. …. It's been cool to see the oil-change crowd take to the arts world a little bit. I was surprised with how artistic our guys are. A lot of them sketch, themselves, just as a hobby.
Anything else?
Oil changes used to be pretty much each 3,000 miles. Now they're 5,000, 7,500 miles. One of the challenges for us is, how do we get people to think about Jiffy Lube in between oil changes? … From the business perspective, the mural program has done a nice job of getting people talking about, and looking at, and telling their friends, "Hey, have you seen what they did at Jiffy Lube?" They're just thinking about us more.
The other part of it for us is …. just doing things to get out in the arts community has really put Jiffy Lube in front of a whole new audience. … I think part of marketing these days is to cut through. There's so much coming at everybody. Some of the ways to cut through are to go where people don't expect to see you. While we always thought public art and Jiffy Lube were a perfect match, that seems to surprise other people.•
Please enable JavaScript to view this content.