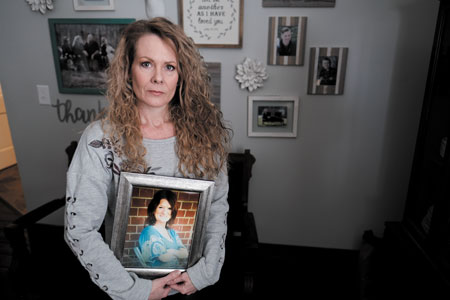 Peggy Thomas survived for more than a decade on the streets in Indianapolis and Kentucky, battling homelessness and alcoholism, until two years ago, when this city's winter cold got the best of her.

Thomas was found in a tent, "basically frozen to the ground, her heart rate almost gone" due to hypothermia, according to her daughter, Melissa King.
Thomas recovered in a hospital, and the near-death experience prompted the city to move her to the top of its long waiting list for housing. She moved to an apartment, where she lived two years.
"It got her off the streets, but she was never the same mentally or physically," King said.
Despite finally receiving housing, Thomas died in November at age 59 from chronic ethanolism, a term coroners often use on death certificates of people who drank themselves to death.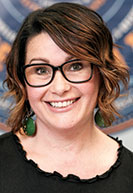 Haring-Cozzi
Thomas was one of at least 70 people known to have died in Indianapolis last year who previously experienced homelessness, according to the Coalition for Homelessness Intervention and Prevention, or CHIP, an agency that supports the homeless and coordinates resources.
That was the largest number of deaths recorded by CHIP since it started tracking figures more than a decade ago, and it represented a 20 percent increase from 2017.
"That is a significant increase from year over year," said Chelsea Haring-Cozzi, executive director of CHIP. "It really caused us to stop and step back and say, 'What is going on?' Something has changed. I think we need to find the answers."
CHIP says it reviewed its data-collection processes and concluded that improvements in that methodology doesn't explain the increase. Nor does it appear to stem from an increase in the number of people experiencing homelessness in Indianapolis.
That figure actually dropped 6 percent in last year's count, according to CHIP. Its Jan. 24, 2018, count found 1,682 people in Indianapolis experiencing homelessness, down from 1,783 in the 2017 count.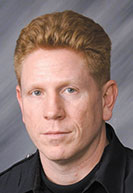 Smiley
The death toll of homeless individuals in Indianapolis has been on the rise since 2015, when at least 40 people known to have experienced homelessness died, according to CHIP.
"This isn't a one-year thing," Haring-Cozzi said. "It has steadily increased. Maybe we have to shift the way we do things."
'Self-medicating'
The death toll has social services providers looking for answers.
An IBJ analysis of manner-and-cause-of-death data from the Marion County Coroner's Office shows seven of the 70 were known to be homicide victims. Another 14 died of drug intoxication, in some cases stemming from the use of heroin, fentanyl or combinations of drugs. At least 16 people died of medical problems, such as renal failure, or complications of other diseases. One man died of hypothermia.
Another man, Kevin Fields, died from thermal burns due to fire, according to the coroner. Fields' death has not been ruled a homicide, but his friend, Robin Dashler-Porta, told IBJ that "someone went and set his tent on fire with him inside of it."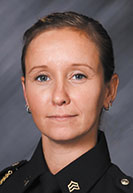 McLemore
"Kevin was the kindest person you would like to know," Dashler-Porta said. "He wouldn't hurt anyone, and I don't know why anyone would want to hurt him."
The data from the Coroner's Office has gaps. The office did not have cause-and-manner-of-death data for 22 of the 70 fatalities for various reasons, including a lack of a death certificate. And another six cases were pending at press time.
Social services providers and police officers who work with the homeless population say they are dealing with multiple challenges that are driving up deaths.
"Substance abuse is increasing," Haring-Cozzi said. "It's becoming more extreme, and the consequences are more extreme."
Indianapolis Metropolitan Police Department Officer Phil Smiley, who works in a downtown unit that works with the homeless, said homeless people are "self-medicating because of mental illness," mainly with alcohol and spice—a synthetic marijuana.
IMPD Sgt. Tabatha McLemore said spice has proven to be deadly because "some lace it with rat killer, or fentanyl." But it's tempting to buy because "it's cheap and takes their cares away."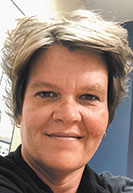 Burgess
"That's what's really harming them, what [drug dealers] are lacing it with," McLemore said. "That's why we were having so many overdoses over the summer. It's not made to be ingested."
McLemore said homeless people tend to be easy targets for drug dealers, because they are out in the open and have mental health challenges.
The homicides among homeless people typically stem from drug disputes, Smiley said.
"It's the nature of the lifestyle," he said. "You're living on the street. You're living in a drug world. You may be a victim one day and the perpetrator the next day."
Haring-Cozzi said she believes city efforts to shut down homeless camps have made homeless people more visible, "becoming targets for others to do harm to them."
"We talk about hate crimes," Haring-Cozzi said. "The homeless become targets of those kinds of crimes."
Health care challenges
Service providers say they believe the increase in deaths stems partly from an aging homeless population that is struggling to deal with chronic health concerns. In the 2018 count, 37 percent of the homeless were at least 50.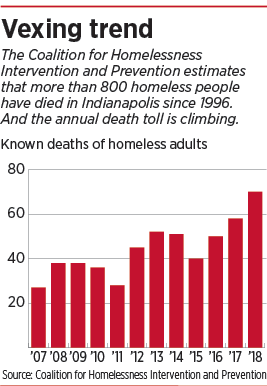 "Folks go into survival mode when they're experiencing homelessness," said Melissa Burgess, program manager and social worker with Horizon House, a not-for-profit that coordinates homeless services. "Their priorities are food, shelter, clothing. Maybe their medical or mental health takes a back seat."
In addition, medical setbacks that would be minor for someone with stable housing and access to clean water and medical supplies can escalate into crises for the homeless.
When you're homeless, Burgess said, "a simple paper cut can be dangerous."
Homeless-services providers say that is why they're eager to see Mayor Joe Hogsett follow through on plans he announced last year to create more units of permanent, supportive housing for the homeless.
Every day that homeless people are on the streets can put them at risk—a point Haring-Cozzi illustrates through the story of a man living in a camp last year as he waited for his name to reach the top of the wait list.
"There was a unit available and they were going to tell him the next morning," Haring-Cozzi said. "The night before he was going to be moved, he was killed. He was hit by a car. Those are the real stories that really shed light on the urgency we're talking about."
But the sad reality, experts say, is that getting housing is not a cure-all, as Peggy Thomas' death showed.
According to CHIP, at least 22 of the 70 people who died last year had housing.
That stark figure is causing the provider community to think harder about how to provide supportive environments once the homeless get housing.
"That's absolutely the next challenge that has to be addressed," said Jeff Bennett, the city's deputy mayor of community development. "The support services are indispensable and inseparable from housing and rental assistance. That's the gap we are now trying to fill in earnest."
It's a daunting challenge, Bennett acknowledged.
"You'll see across the system that our caseworkers have massive caseloads," Bennett said. "It's impossible for one case worker to keep track of 100 people. It's a difficult ask of a resident who has lots of challenges to have to travel great lengths to get to appointments without somebody in proximity to help them manage those needs."
Awareness, advocacy
Those who work on the front lines say they feel an urgent need to spread the word that homelessness in Indianapolis is becoming more deadly—an effort they hope will inspire more people to get involved and help.
"People are dying," Burgess said. "When we have an increase of people dying, it forces our community to see how."
CHIP hosted its annual memorial service for the deceased homeless in late December—an event Haring-Cozzi said is "vitally important."
"We're talking about people's lives," she said. "I think we get so caught up in looking at the numbers. They are mothers, fathers, sons and daughters, and best friends who were really, really struggling."
About One City Worlds Apart
This is the latest story in an occasional series examining the growing gap between the affluent and poor in Indianapolis and ways to address the problem. Read the earlier stories
here
.
King said her mother's plight "opened my eyes," causing her, with her family and church community at Hope Community Church in Brownsburg, to start a ministry for the homeless, called the Forgotten Ministry of Indiana.
"I reached a level of compassion in my heart that I didn't know existed," King said.
Her mother's death is still hard for her to accept, she said, and she has occasional regrets that she couldn't help more.
But King said she is trying to "carry forward" her mom's wishes.
"I think back to the conversations we had where she would say her goal in life was to stay sober and help other people who experienced homelessness and alcoholism," King said. "She really wanted to give back. I really wanted that for her."•
Please enable JavaScript to view this content.