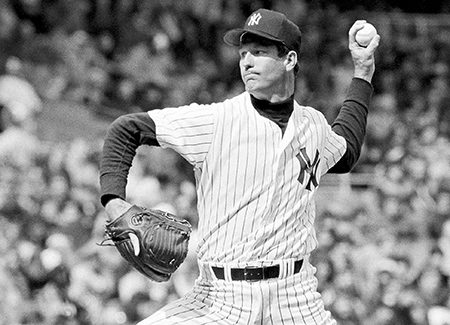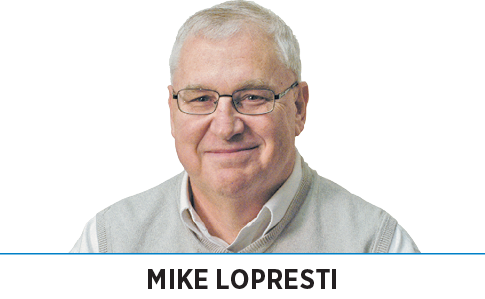 The votes are in for baseball's Hall of Fame, so we can check the class of 2019 for any Indiana connections.
Nope, no Hoosier native sons made it. No former Indianapolis Indians, either. Oh, dear, the great dry spell continues. The only inducted Hall of Fame player in the past 35 years with the Indians on his career passport was Randy Johnson, in 2015 (Bob Uecker was chosen as a broadcaster in 2003). The last Indiana-born player to make it was Southport High School's own Chuck Klein, in 1980.
The road to Cooperstown ain't exactly the I-65/I-70 split, is it?
There are only 10 native Hoosiers of the 329 names in the Hall of Fame. Well, it's not basketball. None of the 10 are among the 80 still living—from the elder statesman, 91-year-old Tommy Lasorda, to the baby of the family, 43-year-old Vladimir Guerrero. But let's inspect this year's ballot for any Indiana DNA, anyway, with the help of longtime Indians play-by-play man Howard Kellman.
The ex-Indian who has been sorta close to making it …
Larry Walker spent the 1989 season in Indianapolis, hitting .270. Then he went on to a fine career, mostly in Montreal and Colorado, with a lifetime average of .313, though anyone who spends his time in the hitter-loving thin air of Coors Field has some convincing to do with many voters.
His popularity has been rising—which is more than you can say lately for the White House or Congress—and he was up to 54.6 percent of the vote this time. But it takes 75 percent for election, and he's only got one year left on the regular ballot. Although he could be admitted later by one of the so-called era committees, which are designed to get in any worthy candidates that regular voting missed.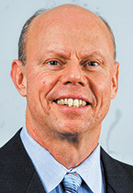 Kellman
Kellman on Walker: "He was supposed to be here in '88 and was hurt, and he missed the entire season. He played here in '89 and was terrific—a really complete player. Average power, excellent base stealer, fine outfielder, good arm. In '89, we won our fourth consecutive championship, but he wasn't here at the end; he was called up.
"The first thing that's brought up, and justly so, is, he put up these incredible numbers at Coors Field. One thing to remember, there's a player named Chuck Klein from Southport, and he was a Baker Bowl [an old Philadelphia band box] hitter, and that's why he put up all these incredible numbers. He's in the Hall of Fame. I don't know if you should hold it against Walker because he did that at Coors Field. I don't think he's a slam dunk, but I can see putting him in there."
The native Hoosier on the ballot …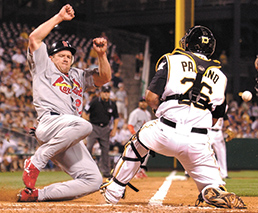 Scott Rolen, who played high school baseball in Jasper, has eight more years of eligibility on the regular ballot. (AP photo)
Scott Rolen, born in Evansville and a high school star in Jasper, finished with 17.2 percent of the vote, and is eligible for eight more years on the regular ballot. History has a suggestion: Don't hold your breath. Know how many Indiana-born players have ever actually been voted into the Hall by regular balloting and not by committee?
None.
During a rehab stint in 2009, Rolen had two hits in two games at Victory Field for Louisville—as far as records can tell, his only professional appearance in his home state.
Kellman on Rolen: "Really, really close [if he should get in]. A great fielding third baseman. Since he's an Indiana boy, from Jasper, and he was a terrific basketball player, too, you heard about him all the time. It feels like I saw him play a lot."
Of the four guys who made it this year, two of them at least played a game in Indianapolis …
Mike Mussina pitched once here and lost. And the late Roy Halladay threw a nine-hit complete game at Victory Field in 2000.
Kellman: "Mussina was a great competitor. His won-loss record [270-153] was sensational. He pitched in the tough American League East. Halladay deserves so much credit for what he went through. He went back to A ball and reinvented himself, and not many guys have to do that or are able to do that."
Eleven others on the ballot appeared here, too. FredMcGriff hit the last minor-league homer of his life in Victory Field in 2004, at the age of 40. He finished with 39.8 percent of the vote this year, his last on the ballot. It's now era committee or bust.
Kellman: "I think he's a Hall of Famer. It stands out he hit 493 home runs and I think there's a good chance he was clean, too, during the steroid era. Close, but I'd put him in. I vaguely remember his homer here. It was at the end, when he was rehabbing. We knew a special player was here that day."
Curt Schilling had the highest total of anyone on the ballot who didn't make it this season, at 60.9 percent. He pitched in Bush Stadium early in his career at the age of 23, and late in his career in Victory Field at 38.
Kellman: "Schilling started against us on opening day in '05 and that was a really special day because it was the first day of the Pirates' working agreement. Zach Duke pitched for Indianapolis and beat him that day. Schilling I would put in the Hall of Fame, definitely. You might say he's borderline, but then what he did in the postseason [an 11-2 record] puts him over the top in my opinion."
The ex-Indian who might get in later …
Dave Concepcion. The shortstop played in Indianapolis in 1969, then moved on to become an important cog in the famous Big Red Machine in Cincinnati, though it was hard to get on the marquee with all the glittering names. It was like being one of the orchestra members for "Phantom of the Opera." Concepcion never received more than 16.9 percent of the vote for Hall of Fame election—only 11 shortstops were ever elected that way—but there is a feeling that, over time, he might get support on the era committee.
Kellman: "I feel very strongly that he belongs. He was a terrific fielder, and there's nothing like having a great shortstop who holds the ball club together. He hit in the clutch and he played on great teams and he did it for a long period of time. The reason I think he's not in is because he's in the shadow of Tony Perez, Johnny Bench, Joe Morgan and Pete Rose."
The native Hoosier who should already be in Cooperstown …
Terre Haute's Tommy John. It's not just that he won 288 games. It's not just that he pitched 26 years in the major leagues, going 13-6 for the Yankees at the age of 44. It's the magically repaired left elbow, when he was willing to be a medical guinea pig for a ligament transplant to save his career. Where would baseball—and countless pitching careers—be today without Tommy John surgery? His career literally changed the sport, and aren't we supposed to, you know, remember things like that?
With John, Indiana would have at least one living Hall of Famer.•
__________
Lopresti is a lifelong resident of Richmond and a graduate of Ball State University. He was a columnist for USA Today and Gannett newspapers for 31 years; he covered 34 Final Fours, 30 Super Bowls, 32 World Series and 16 Olympics. His column appears weekly. He can be reached at mjl5853@aol.com.
Please enable JavaScript to view this content.