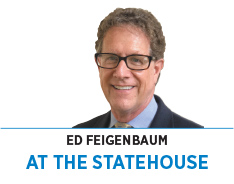 Gov. Eric Holcomb, a Republican, has delivered his State of the State address, and we now have a fairly good look at the lay of the legislative land heading into the first part of the session, the biggest section of the funnel through which legislation must inevitably drip if it hopes to win final passage.
The annual State of the State address does not serve as marching orders—a legislative supermajority of the governor's own party is arguably more prone to exercise its own prerogative than a slim majority in which party discipline from top to bottom is more critical.
However, it does tend to establish a tone of sorts, and helps lawmakers who have 150 different agendas in early January better focus their attention, especially if their own constituents or the Hoosier electorate writ large seems to be particularly smitten by a gubernatorial theme or surprise.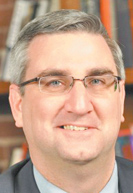 Holcomb
The "Bird Box Challenge" blindfold has been removed.
This year's gubernatorial offering was largely praised by Republicans for its concentration on the blocking and tackling of government, promising an increase in K-12 school funding and providing a path to public schoolteacher pay raises, and further integration of workforce development and education programs from K-12 through adult career and continuing education.
And, of course, the fiscal emphasis outside of education is on increasing resources for the Department of Child Services.
Republicans saw an emphasis on the fundamentals (think back to the governor's oft-recited "pillars") and admirable restraint on spending absent sufficient revenue collections for new programs, much less fund all existing ones at even current (pre-reversion) budget levels. But Democrats read into the agenda a lack of boldness and unwillingness to commit dollars where they would offer a bigger return on investment.
So we now have an early road map of sorts to how things should shake out between now and the end of February.
In the next few weeks, every issue will be framed in the context of the budget. Until the essentials are fleshed out (and just how much Holcomb and his team want trimmed from existing agency budgets and programs), new spending requests and items that amount to tax expenditures are likely to remain sequestered in the Senate Committee on Appropriations and the House Committee on Ways and Means.
Education-related bills are already dominating the early agenda (those oriented toward policy and not finance, however), and committees have generally not posted hearings for some of the other high-profile policy issues, such as the bias-crimes measures, sports wagering, casino license moves, rural broadband expansion, medical marijuana legalization (which will likely pass in 2020 or 2021, but not this year), cigarette tax hikes, and a myriad of firearms and school safety bills.
Likewise, the governor and legislative fiscal leaders express interest in potentially expensive measures to lock the Indiana Pacers into their lease for a few more decades, and perhaps even build an outdoor soccer stadium and entertainment/housing complex (a smaller-scale baseball stadium concept was key to jump-starting Fort Wayne downtown development).
Making the finances work for this set of projects is a complex undertaking, and we've typically seen similar stadium issues wait until the last minute (or special sessions) so that all other state spending has been tied down and options have been fully explored and exhausted.
An Indianapolis-centric deal could be held hostage by northwestern Indiana lawmakers if they can unite on an economic development package for Gary—difficult in itself because of complicated competing casino interests dividing Lake County communities.
So while we may have a better sense of how things might begin to unfold in the next few weeks, we have no better perspective on how the personalities and politics may shape politics at the end of April.•
__________
Feigenbaum publishes Indiana Legislative Insight for Hannah News Service. He can be reached at EDF@hannah-in.com.
Please enable JavaScript to view this content.