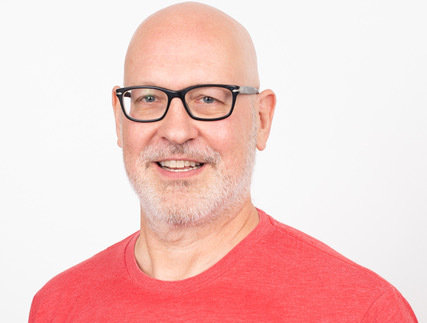 After nearly four years away from Indiana, local tech luminary Scott Jones, who made millions through his voice-mail innovation more than two decades ago, has returned to central Indiana. And he's returned with gusto. 
Since coming back in May, the 58-year-old has supercharged the not-for-profit computer coding academy—Eleven Fifty Academy—that's now located in Fishers, helped push forward a promising life-sciences company that he says can "transform medicine on multiple fronts," and is lobbying Indiana's governor as well as state and federal legislators to push initiatives he thinks will help Hoosiers earn lots more money—and, in turn, bring in more money for the state.
Jones was born in Louisville but moved here after his sophomore year in high school. He graduated from North Central High School and Indiana University, where he still has business contacts. And he said he hopes to be a part of the Hoosier landscape for years to come.
When did you come back to central Indiana and why?
I love it in Hawaii—where I have a home in East Honolulu—but it's not Indiana. I had gone away to Boston for 12 years [where he founded Boston Technology and invented voice mail technology that is still in use] and couldn't stay away. I love it in Indiana and I have great feeling for this state. I'm back in that mode where I want something big to do.
I started [Eleven Fifty Academy] 4-1/2 years ago. … I got back here in May and dove back in and started as not just founder and chairman, but as president actually operating the business. We've now scaled it significantly where we've had about 300 graduates come through the program. We have a 93 percent graduation rate and 81 percent placement rate. After 12 weeks, we're able to place 81 percent into jobs that are averaging $51,000, but many of our students are starting with salaries of $70,000. We have some graduates who are three years out of the academy and are making six-digits. And not just 100 grand, but getting close to 200 grand. These are people from all walks of life. We're making a dramatic impact. We're really ramping up fast and we're ramping geographically. I feel like we can put 1 million students through this program over the next decade. 
Are you involved in day-to-day activities at Eleven Fifty Academy?
I do double days—and weekends.
Do you have plans to expand Eleven Fifty Academy statewide?
We're talking to communities like Fort Wayne and Gary and Terre Haute and Evansville and Bloomington and Crawfordsville. We are all over the state right now having discussions. We're talking about what we've accomplished at Eleven Fifty Academy and how we can snap in to help with what those communities most need.
What is the demand for what Eleven Fifty can provide in places like Fort Wayne, South Bend and Evansville?
When we ask that, we get different responses. Each of these places is in a different place in the cycle. When I was down in Evansville talking to employers locally, they said, "We have an immediate need for dozens of people who have coding skills." One employer said, "We'll hire 90 right now." I think there's a screaming need. It's not just tech companies that need coders. The language of innovation is coding, and we teach that. 
Do you have a timeline for expansion?
We've already been expanding in a big way. When I came back, we were kind of coasting. We had lost some funding sources. So the first half of 2018 we were at about a $1 million run rate for the year. The back half of 2018, we jumped up to a $4 million run rate. We were filling all of our cohorts. In the first half of this year, we're going to double that to an $8 million run rate the first half of the year and close out at a $12 million run rate. This is just tuition—not including gifts. I think we will do between $12 million and $15 million this year. In 2018, we closed it out at $2.65 million, which was double from the tuition revenue from the previous year.
Will you expand geographically in 2019?
We are going into other communities in the next few months.
Can you tell me into which cities you will expand?
I'd love to do another story on that. We're in final contract negotiations. But it's 99.9 percent we're doing it, but I'm not allowed to talk about it quite yet.
Are you living in your house off of 116th Street in Carmel?
I am not. It is only me and it's a 28,000-square-foot home. It's mothballed for now. I tried to do some things at the academy there. I tried to do some events. I was trying to get something going on that front—do some weddings and other events there. Carmel has just not been receptive. … I don't think it helps Carmel or the state of Indiana to have that myopic view. But I decided not to fight it. I'm still very supportive of what Forrest and Charlotte Lucas are trying to do there, because it creates venues that are world class in Indiana, and we need more of that, not less. Right now, I'm just staying with friends, and I get back to Hawaii one week a month to see my children who are out there.
Do you have any other projects in the works?
The academy is my main focus, but I have a couple of other companies. One of which is a stem cell regenerative-medicine-oriented company [Theratome Bio], which I started with a pretty famous professor at IU [Keith March], who built some technology for heart catheterization that is used around the planet. The stem cell company looks really promising. It's a platform of technologies—any of them could be multimillion-dollar industries. We've been through the animal testing; we're getting into the human testing. It all seems to be working really well. It completely transforms medicine on multiple fronts. That's something I'm involved in. It's not my operational thing, but I'm chairman of the board. We've got some great investors involved— a company called Ambassador [Enterprises] in northern Indiana and Don Brown, who is a medical doctor himself and involved in regenerative medicine. 
How have you seen the local tech ecosystem evolve during your years away?
The huge progress … happened in the early 2000s, and it took some time to incubate that. As I've looked around, I'm very excited to see this governor getting behind things that can be transformative again. It seemed like there was a period where we kept things going, but I don't feel like we continued to innovate how we're going to continue to create more fertile ground. We paused to see where else we should invest big going forward. But I do believe [Gov.] Eric Holcomb has the right approach. When he talks about the next level—of everything—I think he means it. He is leading the charge on things like economic and workforce development and specifically in helping the tech sector where some of the growth opportunities still exist.
Are you seeking any kind of legislative support from this year's General Assembly for the tech sector in general or Eleven Fifty Academy in particular?
Absolutely. It's not a line item for Eleven Fifty, but what I am looking for are programs that enable Hoosiers from around the state to participate in programs that will help them succeed in life, that will help cause transformation in their life, where they will not get a 10 percent better compensation, but double or triple their compensation. So yes, I'm talking to a lot of legislators and the governor right now. I'm talking to people at the federal level as well about how do we enable Hoosiers to have the funding and flexibility to get that done for themselves. Those are the kinds of programs I'm looking for: How do we help those individuals help themselves?
Anything specific you'll be asking state lawmakers for in this General Assembly?
I'm looking at programs for companies and individuals. I'm a really big advocate of using taxpayer money for individuals willing to commit themselves to transform their own lives to double their own income. That gets paid back to the state in the form of income taxes and property taxes and all the multiplier effects. I want to support that all day long. Also, let's get that employer help, so employers can fund getting employees trained or re-trained.
Please enable JavaScript to view this content.