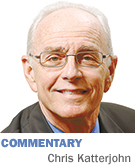 Recently in my office mail, I got a pair of men's Fruit of the Loom underwear—known to many as Tighty
Whities.
I'm a boxer man myself, but, still, it got my attention.
Turns out the undies were a
PR ploy from the creative folks at Shank Public Relations. Included in the mailing was an invitation to a "whack the
recession" party Sept. 24.
I didn't get a chance to attend the party, but I appreciate the sentiment.
It turns out the purchase of men's underwear is an esoteric economic indicator for economists all over the world.
Alan Greenspan himself apparently considers it important.
That was news to me.
"Guys, if you want
to know where the economy is headed next, look in your underwear drawer," writes MSN's Michael Brush. "If
you're like most men, you've got more than a few skivvies in, well, less than perfect condition."
Let's not go there.
"If you're putting off buying replacements—and your significant other
hasn't done it for you—then guess what? The recession probably isn't over," Brush concludes.
I was fascinated, so as soon as I returned from a trip to the men's department at my local Super Target, I looked
into this a little further.
Brush writes on: "Pent-up demand means underwear sales should be among the early
risers when growth returns and consumers feel confident enough to shrug off 'frugal fatigue,' according to Marshal
Cohen, the chief industry analyst with NPD Group, which tracks consumer behavior."
So here's the good
news: After a 12-month, 12-percent decline through the end of January, men's underpants sales leveled off during February
and March, according to NPD. This suggests the economy is stabilizing, Cohen says.
It turns out MSN has a thing
for these sorts of indicators. On its Web site, I found video vignettes about cupcakes, cheese sales and taxicab rides—day-to-day
activities that pick up when the economy is on the rise.
Restaurant activity, jewelry sales and little personal
splurges and self-indulgences are good indicators, too. From what I've read and heard, increased activity in these areas
is still a bit sketchy.
MSN reports that more solid indicators—demand for cardboard boxes and global shipping
activity—are encouraging, as manufacturers need more boxes to move more product. Box sales are up and signs are emerging
that global shipping is on the rise.
The Fed itself said earlier this month that the economy is stabilizing or
improving in the vast majority of the country. It concluded that the worst recession since the 1930s might be over.
At that time, analysts were suggesting the economy had turned the corner and was actually growing at a clip of 3 percent
to 4 percent for the quarter ending this month.
Those are all encouraging signs, but what I find most promising
these days is that the stock market has seemed to find a new comfort level.
Yes, the Dow Jones industrial average
reached 9,800 last week, but what's more important is that it hasn't dropped below 9,000 since late July. It's
the same with the S&P 500, which has been above 950 since the same time.
I like the stability.
While
we have a long way to go and long time to pass before we reach the heady days of a Dow at 14,000, it's a vast improvement
over last March, when we were all in the doldrums along with a 6,600-level Dow.
With the market typically being
viewed as a leading economic indicator, its current stability would suggest the economy has hit bottom, stabilized and is
ready to grow again.
I think that's where we are. But in the meantime—just to be safe—guys, go
out and buy some underwear. That'll get things rolling.•
__________
Katterjohn is publisher
of IBJ. To comment on this column, send e-mail to ckatterjohn@ibj.com.
Please enable JavaScript to view this content.