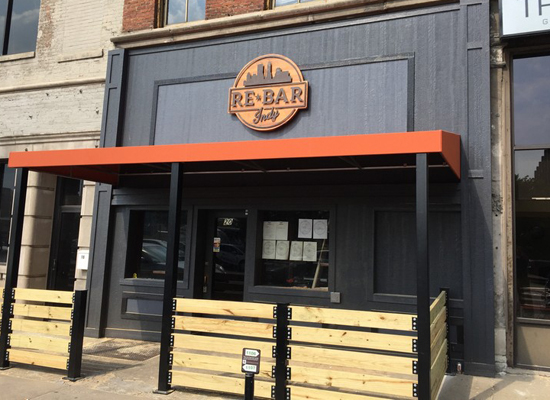 Rebar Indy, an upscale burger joint and bar that launched in 2016 in one of downtown's oldest buildings, has ended its run.
"Rebar Indy is indefinitely closed for business while we search for a new owner/operator," according to a sign posted in the restaurant's window at 20 N. Delaware St. It was not immediately clear when it closed.
A quartet of partners opened Rebar Indy in the summer of 2016 in the former space of longtime downtown watering hole Paddy's Legal Beagle at 20 N. Delaware St.
As IBJ reported at the time, the partners included Jason Watters, an orthopedic surgeon for IU Health, and Jason Tipton, formerly a partner in Ripple Inn, who would lead restaurant operations. IBJ was unable to reach the partners on Tuesday.
The three-story Italianate-style building was constructed in 1866 by brothers John and Adam Hereth to house their saddle-and-harness shop, according to HistoricIndianapolis.com. Law offices mostly occupied the upper floors of the building, which was named the Hereth Block.
Rebar Indy hung its hat on its scratch kitchen, a burger blended from three different meats, and a self-serve beer wall with 20 taps. The space was designed to sport a neo-industrial look, which required a "significant investment," Watters told IBJ at the time. All of the furniture was handmade from reclaimed materials to complement the industrial look.
According to its website, the restaurant launched a new menu in October.
Rebar Indy joins a quickly lengthening list of downtown restaurants that have closed or announced impending closures since December.
Shula's Steak House, which has been in operation at the Westin Indianapolis hotel for 21 years, will be closing at the end of February, the restaurant chain told IBJ on Thursday.
The restaurateur behind Hard Rock Cafe is pulling the plug on its location at 49 S. Meridian St. in March.
Indianapolis-based Scotty's Holdings LLC filed for Chapter 11 bankruptcy protection in late 2018 and closed several locations including its restaurant at 1 Virginia Ave.
Please enable JavaScript to view this content.