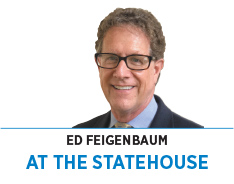 Some lawmakers and Gov. Eric Holcomb had informally discussed taking time to evaluate where the state wanted to be 15-20 years from now in gambling policy. They wanted to work with local governments and stakeholders to evaluate how changing demographics, new forms of competition, industry economics, and attitudes and lifestyles could guide a new dynamic for all forms of gambling in Indiana and provide a smooth "glide path" for any company or community adversely affected.
The grand plans for such an assessment were interrupted, first by the sudden availability of sports wagering to states thanks to the U.S. Supreme Court and then by a pending sale of the Gary casino operator to a high-powered local consortium. That group, flush with cash from the sale of two racinos, sought to move one of the two Gary casino boats inland to a high-profile site along Interstate 94 and transfer its other Gary license to Terre Haute, a shift not authorized under current law.
The prospective opening of gambling law policy brought other proposals to the surface, including accelerating live table games at the racinos from 2021, changing taxes on table games, and eliminating the cap on the number of licenses a single company could own (one entity alone now accounts for 50 percent of Hoosier gambling revenue in any given month).
The number and nature of the moving parts involved in all this are numerous and complex; the opportunities and problems presented are endless.
Several different bills purport to handle the gambling issues, but your eyes should be on the omnibus measure authored by Senate Majority Floor Leader Mark Messmer, R-Jasper. That bill includes all the essential elements, which will either bog it down or allow it to assemble the votes needed to move through—though you should not be surprised to see sports wagering separated.
The popular concept still needs key components ironed out: whether mobile bets (after in-person registration) will be allowed, what types of bets on what sports will be allowed, what data must be used, and what tax rate will be charged. While you should expect a low tax rate, watch to see if sports wagering dollars are used to help fund fieldhouse renovations and keep the Indiana Pacers in town—a user fee of sorts—and perhaps to jump-start an Indianapolis soccer stadium.
The non-sports-wagering components are predicated on economic development legislation authored by Sen. Eddie Melton, D-Gary. His bill, which enjoys widespread conceptual support, would move the two Gary casinos to free up that lakefront property for a multi-modal deep-water port for Gary, tying in the local airport, rail facilities and a new trucking logistics center.
The problem? No one has determined who would fund the development or how—or even how practical the idea might be. The proposal is largely viewed as justification for the casino moves.
But assume Melton's proposal starts to move (If it doesn't, should both licenses still be moved?). Other Lake County communities with casinos are unhappy about competing against a new land-based property off the current lakefront footprint, noting that the previous owner failed to invest as others have in their existing communities. They want a shot at the second casino license, but would be frozen out by a proposed 100-mile exclusionary zone. Portage wanted in as well, and Steuben County—outside the limit—might fight with Vigo County for a license.
Then the nitty-gritty license-move mechanics start: Who may compete, under what circumstances, and how much should be invested in the property? How should a community losing a casino be compensated? How will a move affect other properties? These are questions that could have been addressed by a panel examining the industry prospectively.
Instead, we'll do this under the white heat of a budget session, and in just three months—subject to distraction from more immediate issues.•
__________
Feigenbaum publishes Indiana Legislative Insight for Hannah News Service. He can be reached at EDF@hannah-in.com.
Please enable JavaScript to view this content.