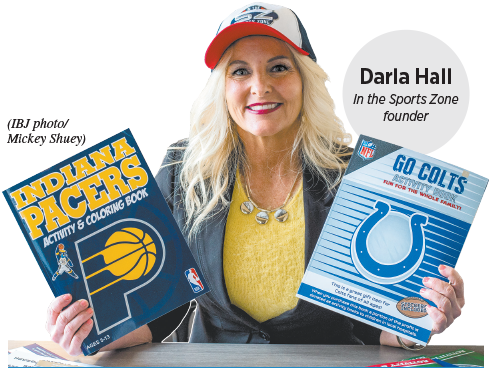 For the past seven years, Darla Hall has been in the business of making sports-themed coloring and activity books and storybooks for children, as well as coloring books for adults. Through her business, In the Sports Zone, the Hamilton County entrepreneur has turned a side gig into licensing deals with every franchise in the NFL, NBA and MLB, as well as 38 college programs. Indianapolis' two major-league teams are among Hall's clients, with the Pacers the first NBA team to feature her books in their team store.
How did all this get started?
I started the company in 2012, as a small gift for a little boy who had gotten hit by a car in Alabama. I was looking for a gift for him and couldn't find what I was looking for, so I stayed up until 3 a.m. and created the first ever "Roll Tide" activity book as a gift for him because of his love for Alabama football. After that, I took the $20,000 in my 401(k) and cashed it in to start this business.
Your started out pretty small, right?
Yes. At first, it wasn't about anything other than being a heart mission. When I first looked into licensing the products, I didn't have any experience in the publishing or licensing industries, and I didn't really have a lot of money. My first year, I had two teams [Alabama and Auburn] and added Indiana University and several other colleges in 2013. My business has grown quite a bit since then.
What has been the most challenging obstacle you've faced?
A couple of years into my business, I had about a $17,000 bill due for licensing fees. I ended up visiting a child in the hospital and giving him one of my player activity books … and I got a message from his grandmother later on talking about how he loved it. I thought, "You know what—I'm just going to find a way to make it happen." The next day, I went to my mailbox and I had a check from Costco [which carried the books at the time] that covered my licensing expenses.
What makes your products different?
I have a few different things going on. My coloring and activity books for kids have 48 pages and a lot of educational content. Then there's my adult coloring books—there's one for the Pacers—and that's 64 pages. I also have a storybook series that's targeted at kids ages 0 to 5 that helps teach children their ABCs. Then there's the phone apps, which I think is a really unique thing. They're all free and they're interactive versions of my children's activity books.
With everything that I've ever done, I've always tried to be innovative, and seek creative ways to think outside the box and do things differently. I also want to give back to the community.
I can safely say that I've sold nearly a million dollars in activity books alone, and that's before I added any additional lines or anything to them. The NBA books are brand new.
What does the future look like?
My ultimate goal is to … to become the leader in sports publications for children. My hope is that I will be able to give back and do a lot of charitable things with that growth, too. I'd like to set up my own 501(c)(3) and fund unique, incredible experiences for kids.•
Please enable JavaScript to view this content.