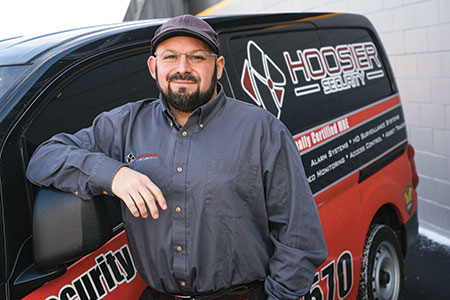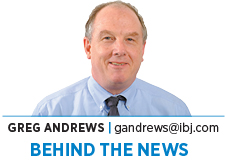 The soaring Hispanic population can be a powerful engine for growth in the Indiana economy—potential that some of the state's best-known businesses are embracing and trying to make a reality.
Take, for instance, Indianapolis-based Hoosier Security, founded by Armando Perez, whose parents immigrated to the United States from Cuba in 1960. The 39-year-old started his security firm with two employees five years ago.
It's doing well on its own—today, it has 14 workers—but the outlook is even brighter as a result of intensive mentoring the company is receiving from the Columbus-based diesel-engine maker Cummins Inc.
"They have been nothing short of fantastic, the resources they have put forward toward helping us," Perez said. "I have not met a person at the company who is not eager to help."
Hoosier Security and Cummins are in the second year of a match as part of the Indy Chamber's Hispanic Business Council Mentor-Protege Program. The effort, launched in 2007, has resulted in 10 matches, three of which are ongoing. The mentor and protege work together for two years, then typically stay in touch after the formal program ends.
The program—spawned by research that found Hispanic businesses needed access to capital and more mentorship—is open only to Indy Chamber members but is otherwise free, said Gustavo Escalante, the Hispanic Business Council's manager.
"For the Hispanic community, an immigrant community that might not know all the ropes, having someone from a company they can learn from is priceless," Escalante said.
Perez said he opted to participate because "the company was growing quickly, things were happening pretty fast. Even though I had a fair amount of experience in management and sales, I didn't necessarily have the experience in operations."
The point people from Cummins are Mike Kirsch, a purchasing director, and Cristina Burrola, the company's Latin American supply chain leader, but the counsel doesn't come from just them.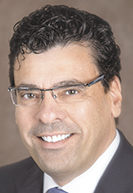 Rodriguez
At one point, Hoosier needed help with project management, so Perez flew to Pittsburgh, where Cummins has a unit that excels in project management. At another, Perez needed help with sales management, so he flew to Dallas, where it has a distributor known for best practices in that area.
"Let's be clear. I love it," Kirsch said. "I have had my own small business in the past. I have a great affinity for what Armando is doing and the challenges he faces."
'So much to learn'
Mario Rodriguez, executive director of the Indianapolis Airport Authority, is just as enthusiastic about his recently formed mentor-protege relationship with Janmarie Connor, president of Indianapolis-based Connor Fine Painting.
Connor Fine Painting dates way back to 1979. Connor's husband, Bob, assisted his brother in getting the business going and came aboard full time in 1984. Janmarie and Bob bought it in 1999, and in 2017 she became majority owner.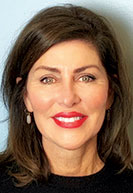 Connor
The 58-year-old—whose mother was born in the South American country of Peru—has plenty of business savvy. Early in her career, she worked in sales for Xerox and Abbott Laboratories and later ran her own consulting firm focused on leadership coaching and executive team management.
Even so, Connor said, "I think if everyone is really honest with themselves, you might have expertise piled up in certain areas. But it is all so big. There is so much to learn to do."
Connor doesn't want to coast. She's determined to take the company—which has 40 employees and racked up 2018 revenue of $4.1 million—to the next level, in part by seizing opportunities outside its longtime niche of maintenance-painting projects for commercial clients. Her goal is $5 million in revenue this year.
One reason the airport is a good fit as a mentor is that it excels in customer service, an area Connor Painting also has made a cornerstone of its business, Connor said.
Airport officials have helped her learn more about how to use its certifications as a woman- and minority-owned business to land contracts. "But it is so much bigger than that," Connor said. "It really is an opportunity for us to really get clear about who we are going to be in 10 years, how are we going to get there, and what do we need to put in place to make that happen?"
All this is right up Rodriguez's alley. The 53-year-old was born in Brooklyn to parents who left Cuba after Fidel Castro took power in 1959. They figured Castro wouldn't last and that the family would return. "My formative years were punctuated by, 'Don't get comfortable here,'" Rodriguez recalled.
Rodriguez, who also is chairman of the Indiana Latino Institute, embraces diversity not just as the right thing to do but as an economic imperative. As baby boomers increasingly retire, businesses launched by people from other countries will provide fresh ideas to help fill that gap.
Hispanics, through their vast numbers, are positioned to make a big impact. Central Indiana's Hispanic population swelled 480 percent, to more than 121,000, from 1995 to 2015, and more than half are 24 or younger, according to the Indy Chamber's 2018 Hispanic Community Report, prepared by the Indiana University Business Research Center and the IUPUI Office of Community Engagement.
Focusing passion
Carlos de Leon, who is from the Dominican Republic, and his wife, Lynaris, who is from Puerto Rico, decided to open ARCpoint Labs drug-testing franchise in Indianapolis after Carlos wrapped up a 14-year run with Eli Lilly and Co. that took him all over Latin America.
The couple opened a location in July 2016, where they employ three full-time workers and two contractors. But that's just the start. They hope to open a second location within 24 months, capitalizing on the growth they anticipate as they branch out from alcohol, drug and DNA testing into being a low-cost provider for a range of drug tests.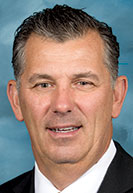 Bower
Lynaris, who had prior experience in pharmaceutical sales, manages ARCpoint day to day as Carlos serves as regional manager for a Johnson & Johnson-owned medical-device business. This month, they launched a mentor-protege relationship with Pacers Sports & Entertainment, where the point person is Chief Financial Officer Kevin Bower.
The pairing with a sports franchise might seem incongruous, but that's not the case. While Carlos held a range of high-level Lilly posts—including general manager of the Central America and Caribbean Region—he said those experiences were vastly different from running a small business.
"When you are in the corporate world, you are stuck in a narrow path most of the time," said Carlos, 43. "When you are a small business, you are doing everything."
Bower said PS&E plans to offer assistance in a range of areas, including using digital marketing to connect with customers.
"We will do our very best to try to help," Bower said.
De Leon said he's excited to see ARCpoint gain momentum. "We are finally starting to take off and get more brand recognition in the Indiana market."
Perez is just as passionate about his company—whose mission, he said, is to "create solutions that save lives, protect assets and make life easier."
That's not just business-speak. It's personal. Perez still is haunted by a notorious Indianapolis crime—a 2004 home invasion perpetrated by a 15-year-old who fatally stabbed his aunt and uncle.
"It is a driving factor, but I try not to focus on it," he said.
"Small-business owner is not an easy job. You've got to have something bigger than you to push you through."•
Please enable JavaScript to view this content.