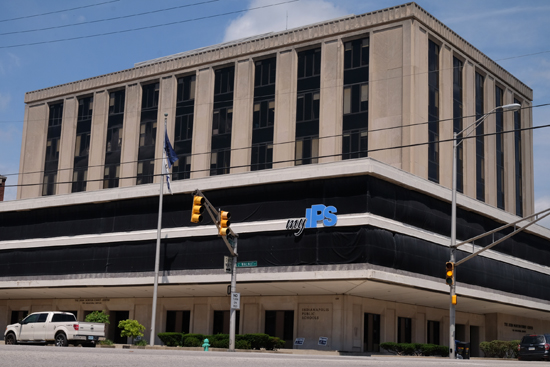 The Indianapolis Public Schools board voted Thursday night to reject a pair of bids to buy and redevelop the district's downtown headquarters.
The board unanimously opted to decline two multimillion-dollar offers for the block-long John Morton-Finney Center at 120 E. Walnut St.
The rejections come after the bids came in "well-below market value," according to a written report by Joe Gramelspacher, the district's special projects director.
Indianapolis-based companies Onyx+East and Core Redevelopment each proposed extensive housing projects on the 1.7-acre site at the corner of Walnut and Delaware streets, about a block north of the Cultural Trail and a block southeast of the Central Library.
According to IPS, the market value should be about $92 per rentable square-foot. Although the building contains 200,000 square feet of gross square footage, it only has about 75,000 square feet of rentable space. The building, which opened in 1960, has five floors of office space and two floors of parking with 219 spaces.
The vote means district administrators will be able to seek out new bids, though it is uncertain whether any future bids could hit close to the $7 million mark for which IPS is hoping—or about $4.6 million more than the highest bid.
Onyx+East offered $2.4 million for the property, with plans to raze the site and invest about $18.5 million in an expansive project that would have brought 63 townhomes to the property.
Core Redevelopment's bid of $2.2 million would have kept the existing building and converted it into apartments, with plans to invest $18 million to $20 million for remodeling and new construction that would bring 150 market-rate apartments and 30,000-square-feet of commercial space.
In a document rejecting the bids, the IPS board wrote that neither bid covered the district's costs of relocating its operations and giving the district a new headquarters.
The district has considered selling the property since last June, when it began analyzing ways to cut costs as it faced a $45 million budget deficit heading into this school year.
A spokeswoman for IPS said the district did not have any immediate comment Thursday night.
Please enable JavaScript to view this content.