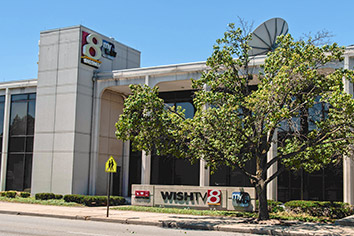 The stage is being set for the sale of WISH-TV Channel 8 as its owner prepares to buy two other Indianapolis stations.
The station, as well as sister station WNDY-TV Channel 23, is owned by Irving, Texas-based Nexstar Media Group Inc. In a filing with the Federal Communications Commission last week, Nexstar said that if its proposed acquisition of Tribune Broadcasting receives approval, it wants to keep Tribune's WXIN-TV Channel 59 and WTTV-TV Channel 4 and sell WISH and WNDY.
A spokesman for WISH referred questions from IBJ about the filing—and the possible sale of the station—to Nexstar officials. Nexstar declined to comment.
In December, Nexstar announced that it had agreed to buy Tribune Media Co. for $4.1 billion in a deal that would create the largest owner of local TV stations in the United States.
However, broadcasters must get a waiver from the FCC to own more than one top-four station in any market. Nexstar's acquisition of Tribune would mean the broadcast conglomerate would have impermissible station ownership combinations in 11 markets.
In 10 of those markets, Nexstar said in its FCC filing, it would divest one of the top four stations. But in Indianapolis, Nexstar is seeking a waiver. It said in its filing that it plans to show the FCC that its ownership of WTTV and WXIN would "serve the public interest."
WTTV, a CBS affiliate, and WXIN, a Fox affiliate, each generate considerably more money than does WISH, a CW affiliate, or its smaller sister station.
Tribune became the owner of two top-four stations in this market when the CBS affiliation moved from WISH to WTTV in 2015. WTTV was not a top four station when Tribune acquired it in 2002, and in those situations, the FCC is more lenient. 
Nexstar could face multiple hurdles in getting the green light to hold onto WTTV and WXIN. The U.S. Department of Justice is examining situations in which broadcast companies own more than one station in a market, and could spike Nexstar's plan in Indianapolis.
One way or another, Nexstar will need to make some divestitures if the acquisition of Tribune is approved. The acquisition would give Nexstar television household coverage in 47.1 percent of the country, well above the 39 percent allowed by the FCC.
There would likely be plenty of interest in WISH, industry sources told IBJ. Those interested would range from other station operators to private equity groups, sources said.
Please enable JavaScript to view this content.