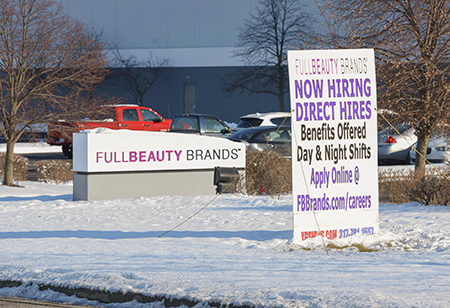 Online clothing retailer FullBeauty Brands, which has more than 700 Indianapolis-area employees, filed for Chapter 11 bankruptcy protection Sunday in U.S. Bankruptcy Court in New York.
The filing was an expected move for the debt-burdened company, which announced in January that it had entered into a restructuring agreement supported by its owners, London-based private equity firm Apax Partners and Boston-based Charlesbank Capital Partners, along with its creditors. 
The agreement would reduce FullBeauty's debt from its current $1.3 billion to between $368 million and $403 million, turning over ownership of the company to its creditors in the process.
In developing the agreement ahead of time, FullBeauty is pursuing a so-called "prepackaged" Chapter 11, which can allow companies to exit bankruptcy within weeks.  
In court filings, FullBeauty has asked the court to approve its restructuring plan at a hearing scheduled for 2 p.m. Monday. 
But on Monday morning the federal bankruptcy trustee handling the case filed an objection to FullBeauty's, request, saying that this would allow the company to "race through the Chapter 11 too quickly" without allowing parties enough time to evaluate and respond to the plan.
It will be up to the court to decide how quickly the case proceeds. 
According to court papers, FullBeauty's largest unsecured creditor is Hong Kong-based KGS Sourcing Ltd., to which FullBeauty owes $38.9 million. 
FullBeauty, which sells plus-sized women's clothing and other items through a variety of websites, has its corporate offices in Manhattan. The company runs its fulfillment, finance and IT functions out of a 750,000-square-foot building on Southeastern Avenue that also serves as its largest distribution center. FullBeauty also runs a 740,000-square-foot distribution center in Plainfield.
 
 
Please enable JavaScript to view this content.