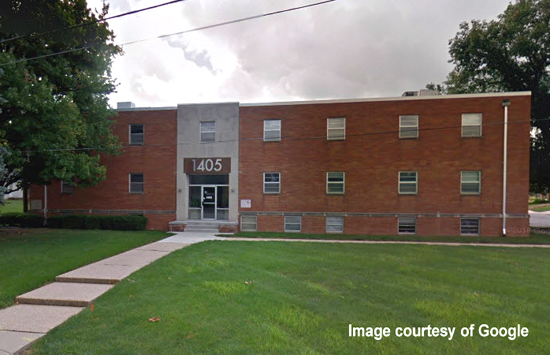 Real estate and construction firm Keystone Group announced Tuesday that it is partnering with Purdue Polytechnic High School to provide the group space in Broad Ripple to open a second Indianapolis-area charter school.
Keystone is buying and renovating the former Central Indiana Community Foundation building at 1405 Broad Ripple Ave. and leasing it to Purdue Polytechnic for its use "while a permanent facility in Broad Ripple is secured in partnership with Keystone," according to a press release. 
The site is two blocks east of the former Broad Ripple High School, which Keystone President Ersal Ozdemir has considered for the site of a $550 million mixed-use development that would include a $150 million stadium for his soccer team, the Indy Eleven. Ozdemir is seeking support in the General Assembly for a bill that would funnel state and local tax revenue toward funding the 20,000-seat stadium
Purdue Polytechnic previously had expressed interest in putting a school at Broad Ripple High School, which Indianapolis Public Schools closed last spring, but said in August that it had eliminated the site from consideration.
The school has since rethought that stance. 
Purdue Polytechnic would stay at the CICF building for at least one year, said Scott Bess, head of schools for Purdue Polytechnic.
And if Ozdemir's mixed-use project moves forward in Broad Ripple, Bess told IBJ that Purdue Polytechnic would "be a potential tenant."
In a press release, Ozdemir said his status as a Purdue University engineering alumnus made him "deeply connected to Purdue and also Purdue Polytechnic High School's mission of equitable access to quality education."
"Once we learned about Purdue Polytechnic High School's desire for space in Broad Ripple, we were immediately excited to help in purchasing and developing a building to fit their needs," Ozdemir said in the release. 
Bess said the charter group signed a letter of understanding with Keystone that would give it space in Broad Ripple even if the mixed-use project—which would be known as Eleven Park and feature lodging, apartments and office and retail space—didn't pan out there.
"It's important to our board that this agreement not be contingent on them doing Eleven Park in Broad Ripple," Bess told IBJ. "They have several sites under consideration. Assuming they get a hearing in the Legislature … it could be Broad Ripple. It could be downtown."
Keystone Vice President Jasmin Shaheed-Young said: "The fact is that this announcement is unrelated to the Eleven Park proposal."
"In the last month, there has been a swell of excitement from fans, supporters, and local groups in the hopes that Eleven Park would come to their neighborhood," Shaheed-Young told IBJ. "As we have previously stated, Keystone Group remains in the evaluation phase with regards to the eventual location of Eleven Park, and there are multiple sites under consideration. Any final decision will be made with public input and city leaders of Indianapolis."
Shaheed-Young said Keystone is "committed to finding a permanent home" for the school after it outgrows the former CICF building.
In a press release, Colleen Fanning, executive director of the Broad Ripple Village Association and a member of the City-County Council, cheered the Keystone-Purdue Polytechnic partnership.
"This is the Broad Ripple I know and love," Fanning said in the release. "Innovative educators team up with a local entrepreneur and developer to bring secondary education back to our community. Working to bring the parties together, I was able to see this approach firsthand and consider this a game-changer for Broad Ripple's future."
Purdue Polytechnic opened its first Indianapolis charter school in 2017. It has 250 freshman and sophomore students and operates out of Circle Centre mall. Purdue Polytechnic hopes to enroll an additional 100 to 150 students in its first year at the CICF building.
The Indianapolis Charter School Board last June approved the group's proposal to open a second campus.
Bess told IBJ it is important that the second location be in Broad Ripple.
"I cannot tell you how excited I am to be able to say we're going to have a school in Broad Ripple," he said. "It really makes both schools accessible to just about every student in Marion County. It gives us a geographic spread we really felt we needed."
Bess expressed appreciation to Ozdemir for partnering with Purdue Polytechnic. The school will pay Keystone $125,000 per year to lease the space at the former CICF building.
"This is not a moneymaking deal for them," he said. "For them to do that from a community perspective, I don't take that lightly. I'm really thankful for that."
Please enable JavaScript to view this content.