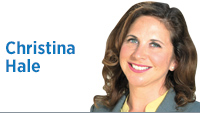 We need to listen to Dan Coats.
Our director of national intelligence certainly earned his reputation as a conservative man of intellect who does his homework.
Last week, Director Coats detailed a scary and vivid report to the Senate about "worldwide threats." Pressure points include growing influxes of migrants, refugees and internally displaced persons fleeing conflict zones; areas of intense economic or other resource scarcity; and areas threatened by climate changes, infectious disease outbreaks or transnational criminal organizations."
Together with two generals, the directors of the Defense Intelligence Agency and National Security Agency, Gen. Robert Ashley and Gen. Paul Nakasone, our top administration intelligence officials suggested the president's assertions about ISIS, Iran, North Korea and climate change were off base. Coats warned further that Russia and other foreign countries would seek to target the U.S. political system in 2020.
Today, people are increasingly broadening a traditional appreciation for the definition of national security to include threats such as environmental determinants of public health, fake news and even the weather.
It seems that our friends and neighbors are spot on in this regard. Yet of note, our president has signaled in several tweets that he does not agree with his own appointees' threat assessments regarding topics that could deeply and negatively impact the way we live, the way we conduct elections, the lives of our troops and of civilians as well.
The report warns that climate change and environmental degradation cause additional risks to global stability as they can "fuel competition for resources, economic distress, and social discontent through 2019 and beyond."
"Climate hazards such as extreme weather, higher temperatures, droughts, floods, wildfires, storms, sea level rise, soil degradation, and acidifying oceans are intensifying, threatening infrastructure, health, and water and food security," said the report. Once again, this is a consensus assessment from top U.S. intelligence officials.
Further, they warn of a potential erosion of America's ability to respond to such challenges, including nuclear pursuits in North Korea, Syria and ISIS, and even Russian and Chinese interference in U.S. elections.
"Our adversaries and strategic competitors probably already are looking to the 2020 U.S. elections as an opportunity to advance their interests," reads the threat assessment. "We expect our adversaries and strategic competitors to refine their capabilities and add new tactics as they learn from each other's experiences, suggesting the threat landscape could look very different in 2020 and future elections."
The report makes clear the dire nature of the news reports we read every day describing a United States facing a strengthening alliance between rival powers Russia and China just as our traditional allies in the United Kingdom and much of Europe (including EU and NATO member countries) renegotiate longtime relationships among themselves and with us as well.
"China and Russia are more aligned than at any point since the mid-1950s, and the relationship is likely to strengthen in the coming year," the report reads. That is real, and that is a very big deal with untold scary implications for most every issue in the report outlined above, from the ground game in Syria to the integrity of our news and elections.
Coats and I often disagree on his opinions regarding politics and social policy, but his acumen, ethos, and approach to the facts and his job are reliable. Clearly, he should be commended for his willingness to step out in contradiction to the U.S. president that appointed him.
Listen to Dan Coats on these issues. He knows what he's talking about.•
Click here for more Forefront columns.
__________
Hale is a former member of the Indiana House and ran for lieutenant governor in 2016 on the Democratic ticket. Send comments to ibjedit@ibj.com.
Please enable JavaScript to view this content.