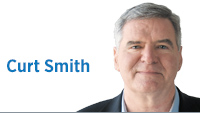 The fiscal sinkhole before the Legislature is the Department of Child Services, the front-line agency picking up the pieces of family fragmentation. DCS requires another $300 million annually for perhaps 28,000 children in its care. This is almost all the new money budget writers have to invest for Indiana in this full-employment, red-hot economy.
DCS, in other words, is sucking the financial oxygen from the room. DCS spending (all sources, including federal) has increased from $900 million in 2014 to just over $1.2 billion in 2018. And it needs $300 million more. In round numbers, it spends $40,000 per child per year. The administrative part of that sum is 44 percent, or $17,600. Those are staggering numbers.
This is not the place to rehearse the views of pro-family groups like the Indiana Family Institute, who have argued against the steady erosion of a child-centric focus in our state's public policy. We are fond of saying you cannot pass enough laws or appropriate enough money to replace families, and the DCS dilemma proves that.
But below we do offer 10 no-cost or low-cost options for Hoosier policymakers to consider as we soberly respond to this family-fragmentation crisis worsened by methamphetamine and opioid addiction.
1) Embrace CarePortal. Launched Jan. 29 with a strong assist from DCS, this technology platform—already active in 18 other states—links churches and not-for-profits to tangible needs of families receiving state assistance or oversight. CarePortal has many strengths (technology, ease of use, tested model), but chief among them is that a case worker or other professional is always between the recipient and the volunteers.
2) Fully embrace Republican state Sen. Andy Zay's proposed law to quickly take CarePortal statewide. The cost is less than $1 million up front.
3) Bring back the marriage and relationship education program IFI operated for six years for low-income Hoosiers. The conservative Heritage Foundation studied all such 15 national demonstration projects and encouraged greater investment.
4) Indiana has the worst divorce rate in America, according to the 2018 Family Prosperity Index. Republican Sen. Victoria Sparks' proposed bill would reduce divorce (and collect better divorce data). Her bill should become law as one response to this horrible statistic.
5) Experiment with a different casework model. Currently, we take kids from home if they are at significant risk of harm. Once served, they go back into the same home with all the same problems. Let's serve youth in the home when possible, bringing services to the entire family system affecting the child.
6) Safe Families, another not-for-profit that tried to help hurting Hoosiers, should be welcomed back by DCS. The prior director refused to allow foster care families to also serve as temporary care givers to families in acute distress.
7) Fully embrace the Family First Prevention Services Act, a new federal law overhauling foster care and redirecting the $8 billion annual federal appropriation.
8) As a policy, declare no families will be investigated by DCS for issues arising from gender dysphoria. It is not a form of abuse or neglect for youth and their parents to disagree about this.
9) Protect the religious liberty of families and providers helping with youth services. CarePortal, Safe Families, many adoption services and others in this system are faith-based groups motivated by love to serve those in crisis. They should be protected and celebrated, not denigrated and hassled. Faith-based options are not for all families, but running them out of the business indeed harms all families.
10) Pray. Pray hard. Then pray harder. Our problems are real, but our children are worth everything, including humble, fervent prayer.•
Click here for more Forefront columns.
__________
Smith is president of the Indiana Family Institute and author of "Deicide: Why Eliminating The Deity is Destroying America." Send comments toibjedit@ibj.com.
Please enable JavaScript to view this content.