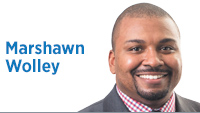 We need to talk about education outside of Indianapolis Public Schools.
A considerable amount of energy and zealous effort has gone into improving overall school quality while addressing achievement gaps in IPS. Recently, reports from CREDO and IUPUI document both challenges and progress on what we should now call evidence-based practices like the innovation-school strategy and portfolio model for charter schools.
Progress isn't perfect, and there is room to develop better evidence-based practices.
IPS is slowing down expansion of the innovation-school restarts and I would even appreciate a discussion on a charter-school moratorium. Too often, new efforts have appeared promising only to fizzle out. Progress should move at the pace of sustainability. Community support should matter as well.
But doing nothing hasn't been a compelling evidence-based practice for some time. If these ideas seem in conflict, it's because we need a different paradigm.
We've seen a lot of activity within IPS. Meanwhile, township schools (which excludes Speedway and Beech Grove) have not had anywhere near the level of attention or engagement—dare I say scrutiny.
That must change.
And part of the change should be how we think about education for all students in Indianapolis.
When looking at the eight township districts outside of IPS, white students did not fare that well on the 2018 ISTEP, as only 56.1 percent in third through eighth grade passed both math and English language arts. Only 36.1 percent of 10th-grade white students passed both the math and ELA sections of ISTEP.
In most township districts, more than 70 percent of black children in third through eighth grade failed the ISTEP. Only 12.7 percent of 10th-grade black students in the townships outside IPS passed both math and ELA for ISTEP.
Latinx students did not fare much better. Just under 32 percent of Latinx third- through eighth-grade ISTEP test takers in the townships excluding IPS passed ISTEP. Only 18.2 percent of 10th-grade Latinx students passed both the math and ELA portions of ISTEP.
More than 118,000 students took ISTEP in townships districts in 2018 and just under 52,000 passed both math and ELA tests. Over 66,000 students failed the test.
IPS rightly has outsized significance for the city. But we compete, fail or succeed as a city.
Unfortunately, township schools don't receive comparable reform infrastructure or policy attention even though, judging by ISTEP scores, these schools need interventions, particularly for students of color.
I've already begun asking questions.
Administrators can point to a decline in test scores statewide. There's the reality that ISTEP is just one indicator and administrators will likely be able to point to additional indicators that paint a fuller picture. Not to mention that no one in my professional life has ever asked me about ISTEP scores.
But ISTEP is a test the state says our students should be able to pass—and too many are failing. That reality should matter, and if we don't think it does, we should start a citywide discussion on what a quality school looks like.
Improving township districts doesn't mean importing IPS solutions, but lessons can be learned from the reform work that has happened in that district. We also have the opportunity to ask different questions, like, should we have nine township school districts?
Our city deserves a broad and bold discussion about education.•
Click here for more Forefront columns.
__________
Wolley is a lecturer at the School of Public and Environmental Affairs at IUPUI. Send comments to ibjedit@ibj.com.
Please enable JavaScript to view this content.