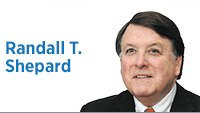 The disintegration of American newspapers is proceeding at a pace that's breathtaking and disheartening. We need to start talking about where we can find reliable news. The trend is plain for all to see. Most visible in the state's capital have been the layoffs at The Indianapolis Star and the shrinkage of the papers that arrive on the doorstep.
Shrinking the news staff has been a regular part of Gannett's management since it bought The Star from the Pulliam family in 2000. Departures in recent weeks—some from buyouts, some from layoffs—have included such stars as Tim Swarens, Will Higgins, Greg Weaver and Gary Varvel.
And the paper shrank with elimination of valuable columnists such as Ball State University's Michael Hicks. Lest one wonder about the remaining readership, the prominence of ads for hearing aids and walk-in bathtubs tells you a lot.
The current Gannett suitor, hedge-fund vehicle Digital First, has a reputation for fervent cost-cutting. It's hard to imagine what's left.
This is hardly an Indy phenomenon. Gannett properties like the Courier & Press in Evansville and The Star Press in Muncie have depleted to the point where their editions feature much copy traded with each other, and of course, less news about events happening in the subscribers' communities.
And the Schurz family has just sold the South Bend Tribune and seven other Indiana papers to GateHouse Media. GateHouse specializes in weeklies. Think about it.
There's nothing subscribers can do about these developments, but we can help the larger situation by paying attention to places where the news is actually improving.
I'm happy to say we have some. Our most promising institutions are locally based entities that are print-and-digital or broadcast-and-digital operations.
Pay attention to the role of the Indianapolis Business Journal. Its circulation and its reporting are growing rather than shrinking. It now has 10,500 subscriptions and some 350,000 unique digital visitors a month. No ads for hearing aids, but rather for universities, research firms and economic development companies.
A leader at Indiana University recently told me where he gets his first news of the day. "Eight@8," he said with an upbeat tone. That early web missive covers a lot of ground. You're likely to read about a new civic development, or an education issue, or soccer or transportation spending news.
Add to the IBJ its allied publications The Indiana Lawyer and, yes, the Court and Commercial Record, and you've got a pretty good team to keep you up to speed.
A stalwart that qualifies as broadcast and digital is Gerry Dick's Inside Indiana Business. The show on public broadcasting works alongside regular web postings. Supporters include law firms, banks and the Indiana Chamber.
Dick and his comrades cover education, agriculture, manufacturing and logistics, and technology, to name a few industries. Its recent stories covered a new "teen tech center," developments at Indiana's ports, and new leaders at IU Health and Franciscan Health and the University of Evansville.
A formulation is being built by Indiana Public Broadcasting Stations, now led by Mark Newman. IPBS has added news staff to provide coverage offered through 17 stations serving most of the state's markets. It has been financed by grants from Lilly Endowment, the Fairbanks Foundation and Corporation for Public Broadcasting.
We're also benefiting from stronger contributions from many broadcasters and Chalkbeat, and by players like Ed Feigenbaum, Brian Howey and Abdul-Hakim Shabazz.
Building a better future for our society will call upon all of us to be savvy about new and improved ways to learn the news.•
Click here for more Forefront columns.
__________
Shepard, formerly Indiana chief justice, now serves as senior judge and teaches law. Send comments to ibjedit@ibj.com.
Please enable JavaScript to view this content.